A forecast for temperatures dipping into the twenties caught my ear early this morning as I was having my coffee. I knew what I was going to be doing today. I hadn't planned it, but there is a good chance the forecast will be correct, and I wanted to take a few things from the garden before the first hard freeze does. I set my mind on the tasks before me...since I will spend the day outdoors, I dig out last years earflap hat, and my boots.
The crows were raucous this morning. I counted 15 of them. They watched me do the morning chores. I made sure that the rabbits and chickens have extra hay. I let the chickens into the garden to browse. They have been locked up with only the garden to range in, I have not let them out since the encounter with the bobcat.
Standing at the garden gate, an assessment is made: the glads and dahlias and 4 o'clock still need to be dug...so do the fingerling potatoes. The freeze would surely take the herbs, so they will have to be cut. Looking to my left, I notice a large hole in the greenhouse door. !#%*! I will have to fix it before I do anything else.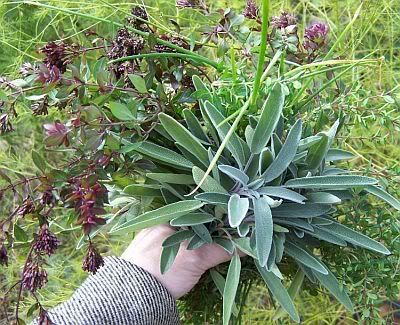 Once that was out of the way, I moved the potted plants of sweet alyssum into the greenhouse, along with some pots of herbs. These will keep for another month- into December if I am lucky. I make a mental note to start a flat of lettuce in the greenhouse- and hope I will remember! Once the pots were safely tucked inside the greenhouse, I ventured out into the broccoli patch to cut the seed pods for hanging. I fill a gallon bag with fresh broccoli as well...the last of the heads, and most of them are quite small by this time..so I pick some leaves and some heads with flowers on them too. I cut the herbs.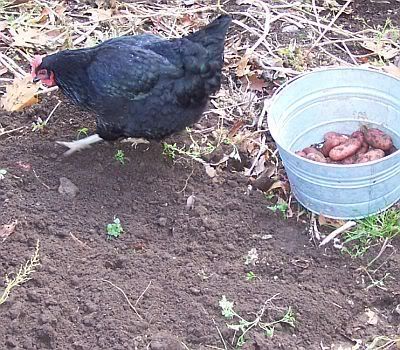 With afternoon already upon me, I start to dig the fingerlings. There are an amazing amount of these! I planted only 10, and I cannot get over the abundant yield...there is no way I can dig all of these hills today...even with the help of Soot. Soot used to pal around with my hen Goldie (the one who was killed, presumably by the bobcat). Soot has taken to working at my side in the garden...I think she misses Goldie too.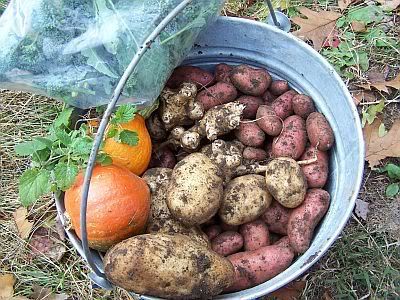 There is a sense of satisfaction that I feel as I look at the days harvest. And I still didn't get it all ...I will keep my fingers crossed. Maybe the forecast will be wrong....