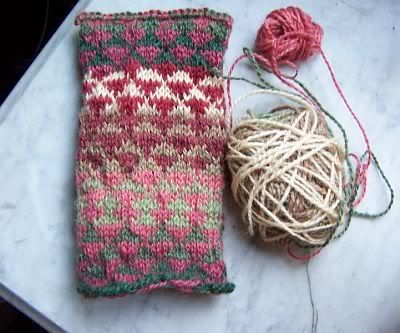 I had been wanting to do a little color work project, and this Faux Isle Glasses Case Pattern that Grace designed, was the perfect size that I had in mind. I thought it would be a quick knit for me...it should have been. It is very clever the way she arranges the colors ahead of time.
The pattern calls for you to first create 2 balls of yarn, selecting from and incorporating a palette of about 10 . Selecting the arrangement of the colors is crucial to the success of your design. The colors are then measured out and "spit joined" together. I imagine all sorts of different possibilities of results from the arrangement of colors. My first choice didn't work out so well, so Grace made these for me to get me started.
So, "spit balls" are now ready and the pattern is simple, should be a quick knit...but for me it wasn't! I must have ripped back more times than I would like to admit. I was paying too much attention to the colors and getting myself confused with the pattern. I felt as if I was lost in an M.C. Escher print! Finally, something clicked, and I was into the rhythm of the pattern and enjoying it. Now I feel ready to make another...
To finish it, I gently fulled the outside, but vigorously felted the inside stranding. I used a wet felting method, and took a sander to it when it was dry. This created a very fuzzy inside, and one where the strands cannot hook on to the eyeglasses.
A four stranded braid was sewn on so the case could be worn around the neck if desired.