I should have been taking advantage of the warm sunny day, there are holiday lights that need to be strung, and other chores that are easier on the fingers when the weather is nice. But the ledges have been revealed, and I have not been walking there since last winter. I want to visit them, and so, I return.
The ledges are nearby. I don't walk them for at least half of the year. They are off limits from early spring, (when the thunderstorms wake the snakes) until early fall (when the snow and frost chases them into the ground again). The ledges belong to the woodland creatures. There are dens in the ledges. These dens are homes to fox, bears, rattlesnakes and bobcats...and who knows who else? So, I am careful when I visit them.
No matter how I photograph them, they don't look as big in the pictures as they do to me when I am climbing them. Nor do they look as dangerous. There are so many holes, and loose rocks, the moss and leaves are slippery, and there are steep "drop off's"...one must traverse with caution.
I return to visit an old friend.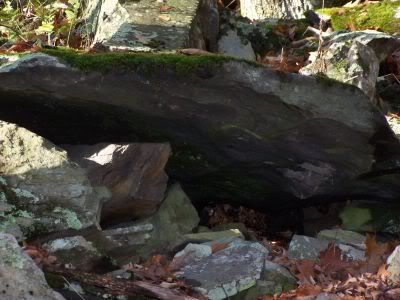 This area is not as I left it....it has been disturbed, the rocks are no longer stacked and tight, they have been pushed aside...perhaps by ice, or an animal. I look inside. There are no signs.