Looking out at the morning ...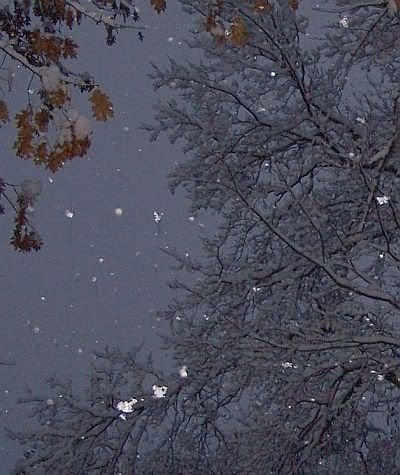 There are still leaves on many trees, (and in my gutters!) A seasonal juxtaposition ...
At least I was able to dig the glad corms...and transplant lettuce to the greenhouse. Turns out I didn't have to plant it, the lettuce had sowed itself. I left some in the garden, to see how long I could harvest it, and have not even had a first cutting before the first accumulating snow.
The shawl has been finished on the loom since last week. It is resting while I figure out what I am going to do with the border. There are several other projects in the works. I am still working up a series of small bags. They are rather organic and unusual. They are more form than functional. Someday, if I get up the courage, I will post the photos of them.
Around eight o'clock this morning, while I was outside doing chores...I heard geese flying overhead. As I looked up I noticed huge flocks going over. More than I have ever seen before at one time. I estimate the count to be well into the hundreds. As I went about my tasks, I continued to hear and see large flocks. They are leaving. Snow birds....