Outside it was doing this...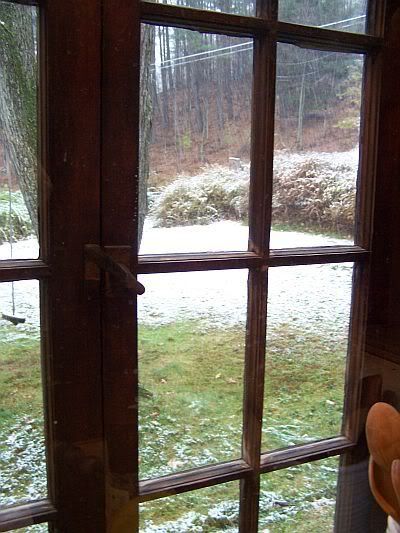 inside I was doing this...
I have taken to listening to Waulking Songs (Orain Luaidh) whilst working. These were not available to me a few years ago, but now I have downloaded many. I am so happy that these songs are being preserved. You can find them all over the internet, there are some great ones on YouTube, where you can view competitions with groups preforming them. For those who are not familiar with Waulking Songs, they were originally written to be sung during a "Wool Waulking", while the tweed or other woven cloth was being beaten or fulled on a table by a group. The purpose of beating or fulling was to shrink the fibers so they would lock together and finish the cloth. They sang chorus and solo lines, with words that were stories of sorts...but because they were written to accompany work (including spinning and weaving) there was attention to rhythm. So my fingers are walking down the loom, and the strand is walking up...and I am listening to a "waulking song" that was recorded at one of the Highland Sessions with Kathleen Macinnes on the vocals. The waulking songs help me keep focused and at the same time my mind wanders. I feel a connection to the songs, they stir up something I cannot explain. When listening to the recordings of the old women singing without musical instruments, I am haunted by the memories of something I could never have known.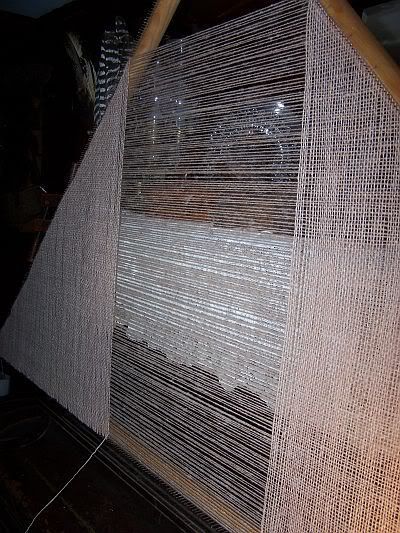 I wish I could speak Gaelic so I could understand the words. There are some sites on the internet that translate the lyrics...some of the songs are very sad, some are joyful. They keep the pace for me, they keep me on task.