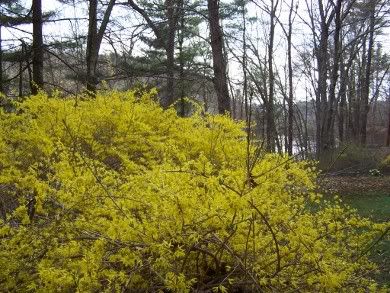 The Forsythia is blooming. Forsythia is named in honor of William Forsyth, a Scottish botanist...but when I was a child, I thought that it bloomed for me..."forcynthia". Look at these blooming "forcynthia", I heard them say. (A touch of narcissism..)and more yellow.
The ones that bloom around the riverrim are 50 year old plants and older. The big bush shown above suffered during a late winter snowstorm when a branch fell from a tree above. Still, it flowers profusely in spite of the fact that the branch still weighs heavy on top of it.
At the advice of my sister, I took these cuttings for my window box in late February. There was still snow on the ground that day. I bundled the twigs and stuffed them in coffee cans filled with water. Surprisingly, even after the water has frozen and thawed several times over, the cuttings are now blooming...and I expect they may have rooted at well!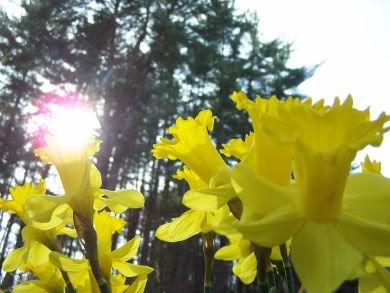 The Narcissus are blooming yellow too. There are two different origins, of how this plant got its name. One derivation is that they are named from the Greek word to grow numb..based on the narcotics contained in the bulb.
The other derivation is based in Mythology...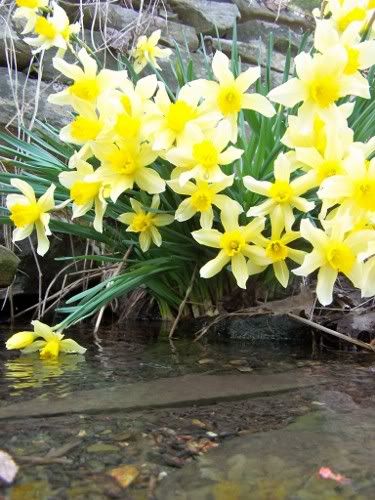 and this photo demonstrates the story beautifully!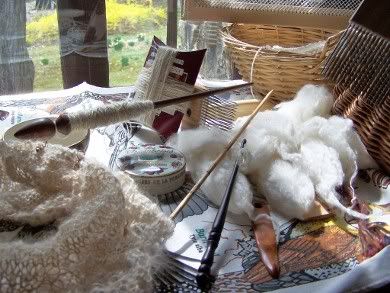 I am working on several projects at once, and my worktable is cluttered, from left to right...bottom corner, silk/angora lace shawl, alpaca locks and combs, alpaca handspun being woven, plying of angora/silk on russian style support spindle (I worked the shawl as far as I could and then had to spin up more yarn...what a very bad habit!.....haven't I learned my lesson by this point in time!)
From my vantage point, I can gaze out the window and watch the yellow.