A few months ago, when there was snow on the ground, I was reading about the Knitted Lace of Estonia, by Nancy Bush. What a terrific book, the photos, the descriptions, the history...all of it is so interesting!
Thanks to Grace
, a knit-a-long was arranged, and I started my journey into learning some of the Estonian patterns and techniques.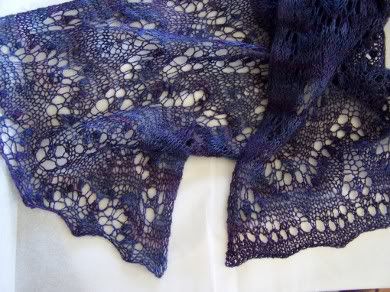 Grace selected a smaller/ scarf version of the Queen Silvia Shawl for the KAL, and I followed the center panel (leaving out the gathered stitches and the lace edge). I worked the pattern in one direction. I was having so much fun knitting merrily along that I passed the mid-point and forgot the other side and the graft in the middle. There are imperfections, but I still like the way it turned out.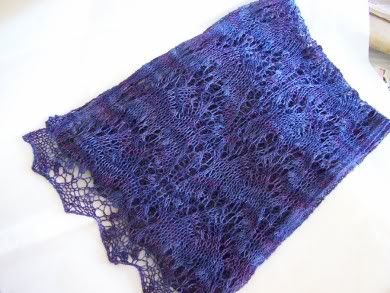 Most of my satisfaction was due to the lovely yarn that I was working with. 315 yards of "Zephyr" from Ball and Skein. Gorgeous Hand-Dyed Merino and Silk Lace Weight threads that slip through the fingers, and pour down from the size 3 needles. I had first intended to gift this yarn, as a yarn package...but I am very glad to have decided to knit with it and gift the finished object. It was a pleasure!
Captivated by lace, I begin to plan another project. This next lace work will be constructed from my handspun angora.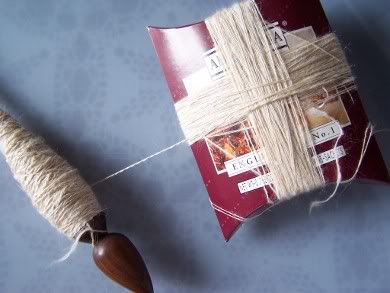 I have plied a single strand of angora with a single strand of silk. ..both singles have been spun on the Russian Style support spindle. There was not much information available to me on how to ply the singles onto the support spindle. From what I could gather, a plying card or disk is used to hold the singles that are first wound together. A found tea box is used in place of a disk. I had to reverse my hands for plying, funny and odd to me that I just could not get my flick on for a z twist with my right hand- so I switched over to using my left hand.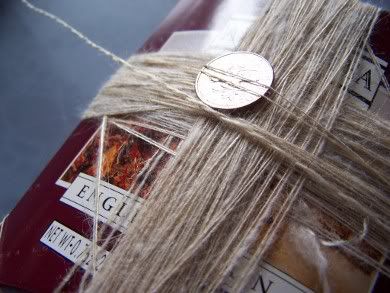 I'm sure I could have created a yarn with a better ply if I had used a suspended spindle to do the job, but I wanted to stretch my skills. Sometimes the best way to do that is to embrace the imperfections!