I've not been walking lately. For what seems like a myriad of reasons..(all of which I will not subject you to, dear reader)...I have not spent very much time outdoors.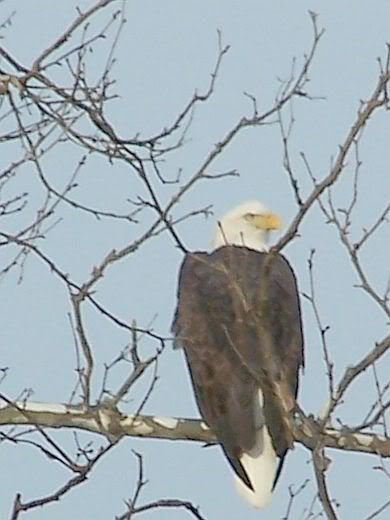 Yesterday, I ventured out and saw the eagle. I almost didn't. I was on my way inside when he called to me. If he hadn't called, I would not have noticed. Have you ever heard an eagle call to you?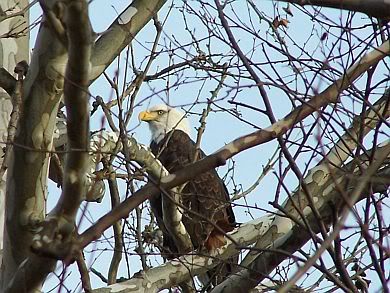 He called twice before I found him. His eyes were on me long before I met his gaze. I figured he must have seen me walk over the bridge and back before he called. The camera wants to focus on the branches in front of him. The auto digital focus is confused, and as a result, my photos are blurry. Times like this I want my old manual 35mm Minolta. With the zoom.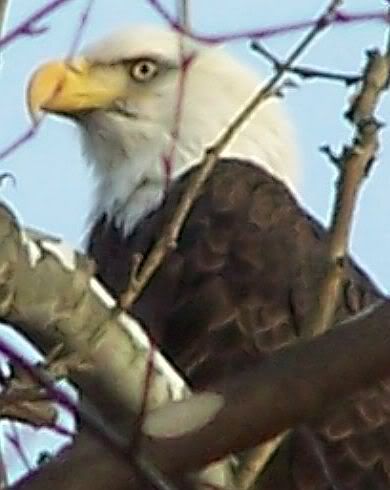 We looked at each other for a pretty long time.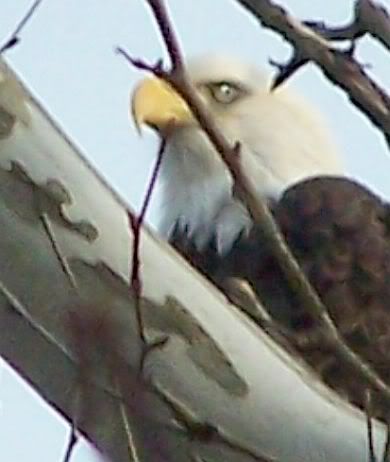 Those eyes, oh my....what to say about those eyes. I was the one who broke the stare and left first.
Spare moments in the morning are spent with coffee and a wonderful book (Art on the Rocks- Stone Wonder, by Bruce Hucko) that Cathy sent my way. Tucked into the box I also found this lovely spindle that her husband made, along with a Shetland Silk blend--hand dyed "Desert Canyon". I am so enjoying working with this. I work slowly.... thinking, spinning,.... reading, spinning, thinking...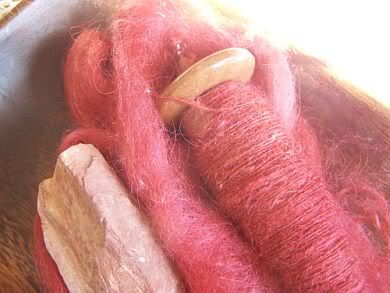 The combination fills my mind with inspiration--and the hours in the day don't provide enough time to devote to projects.
In order not to become frustrated by the menial business of the day..I allow my daydreams and project techniques to distract me from time to time. Diversionary tactics. That's my strategy, and I'm sticking to it.