On Saturday last, The Woodland Weavers and Spinners Guild had a meeting in Damascus. They invited
Fred and Grace Hatton
to speak about Antique Spinning Wheels...I was invited to do a demonstration on the Walking Wheel.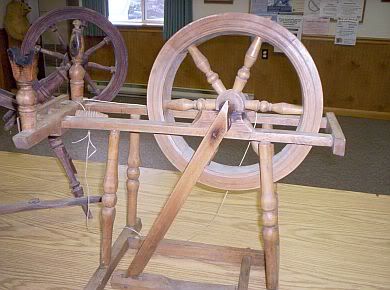 The guild members brought some of their own antique wheels to display and inquire after repairs etc. They also brought covered dishes and cookies.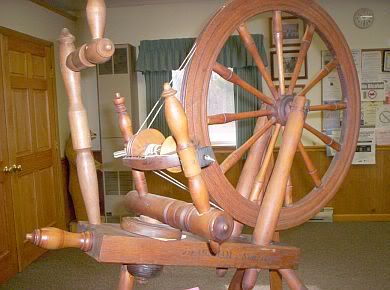 There were two signed wheels in attendance. This first one is a Farnham...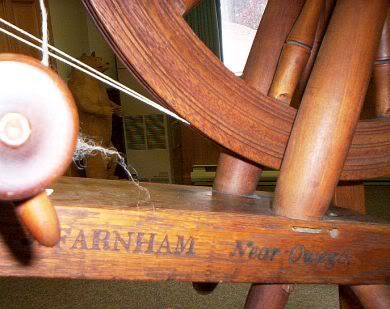 it was decided that the distaff was not original to the wheel. Fred talked about how one could spot the differences between original pieces and those that have been reproduced.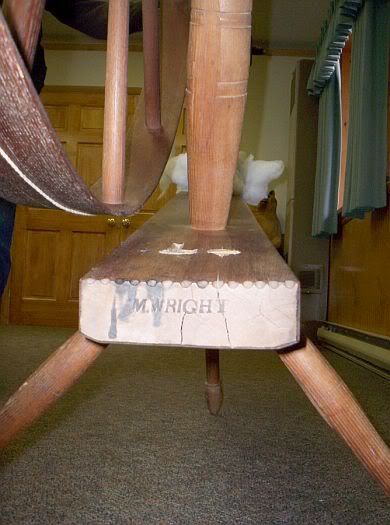 This signed GW was made by a local wheelmaker, who was related by marriage to one of the guild members. It was in wonderful condition.
The head attached to the barrel tension is not original to the wheel. There is another wheel that lives in the Greene-Dreher Historical Society building and was signed by the same maker..I saw it when I did a demonstration over there- summer before last.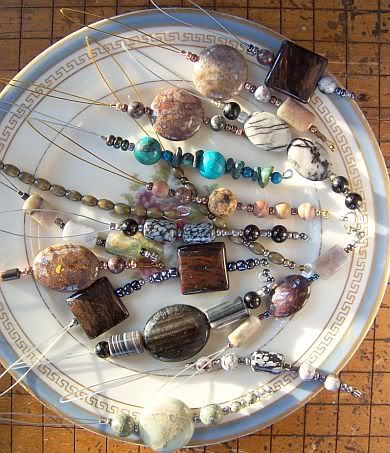 We were also invited to sell our wares after the meeting, so I made some thread hooks to go with the double hole tape looms that Fred makes.
I also made some of my Spindletree Spindles to sell for ornaments or package decorations. They are about as big as my middle finger. These are the prototypes for the larger versions I am working on.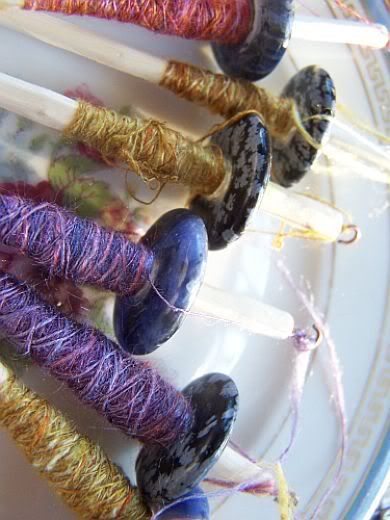 I carved the shaft on the spindles from Spindletree wood. I spun some silk from mine, chain plyed it, and hung it around my neck, as a necklace. In the language of flowers, Spindletree means, "your charms are engraven upon my heart".
I plan to update the etsy shop with these items, but if you see something you like, feel free to email me to request a reserve.
The Woodland Weavers and Spinners are a great group of people, and I would like to thank them for their hospitality and an excellent Saturday afternoon!
Note: the spindle tree spindles are now sold out!! thanks everyone!