The sky was SO blue today, you would not know that we are in the month of November to look at it. The sky had the clear deep blue color of a May memory. Today I spent the afternoon cleaning up fallen leaves. We have had our first frost, but we have not seen the last of the harvest. There will be a few more weeks to gather a late summer sowing of carrots...
yummy Nantes and Danvers...
these are still small and oh. so. tender. Steamed and served with butter and herbs, they taste wonderful. The tops have been nibbled by the rabbits that have been slipping through the fence. That is OK, I'll share.
Another late harvest comes from the stalk...
I was never one to enjoy Brussel Sprouts as a child, but as my father used to tell me, "you will like them when you grow up." This also holds true for Eggplant. I guess I'm officially a grown up now.
My sister- has shared with me- a terrific recipe for brussel sprouts that involves garlic and hot pepper flakes with a lemon sauce. If you would like the recipe, let me know in the comment section. I'm sure she would not mind if I shared it with you.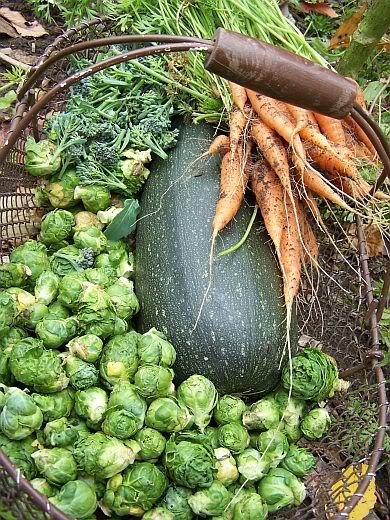 Last harvests are as much fun as the first harvest of fresh peas or lettuce...but they are a reminder that soon I won't be able to go out to the garden and pick my supper time vegetables for much longer.
Collecting seeds - another autumn chore that takes my mind back to spring. Firsts and Lasts tend to overlap. As I collect the nasturtium seed, I think of the nasturtium seeds that I planted in May. We have come full circle. Is a season starting or ending? Is summer ending? Winter beginning? It is a sort of chicken and egg question..which comes first?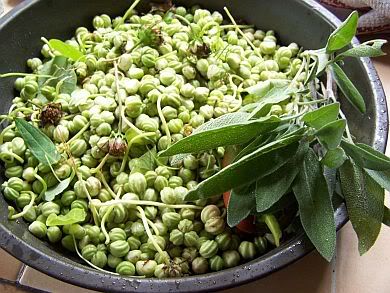 Our chicks are a month old...(oh my...they still don't have any names!) But they are healthy and strong and come running if you sing to them !