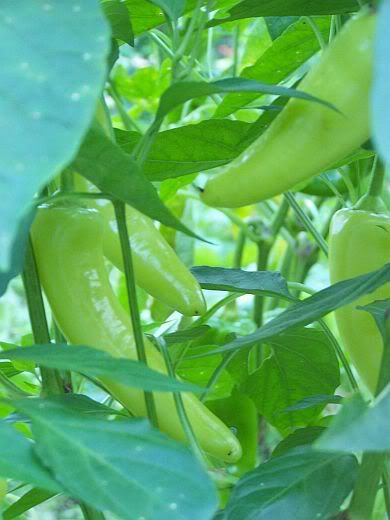 At the end of the growing season, it is time to reflect upon what crop was outstanding. This summer was the "year of the pepper" at the riverrim. They have grown to perfection. It is time to pick. AGAIN.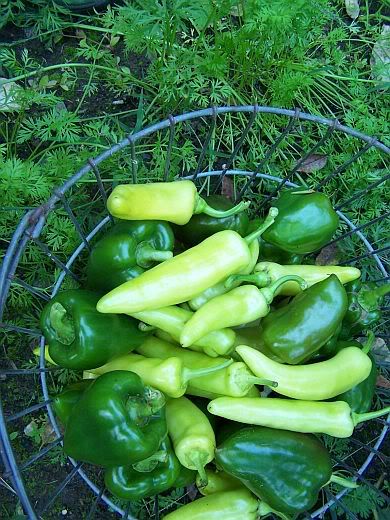 It does not take long to fill my basket (which btw used to hold blue claw crab or clams when we lived near the bay, but works just as well for peppers now that we live near the river). The fruit makes a satisfying "snap" when plucked from the bush. The glossy skin of the pepper shines as if polished. I fill the basket and feel thankful for the bounty. I think back to the month of February, when I planted the seeds. It was cold, snowy outside as the seeds germinated next to the warmth of woodstove. It took a full seven months to grow the peppers from seed to fruit.
The dictionary defines a peck as: A unit of dry volume or capacity in the U.S. Customary System equal to 8 quarts or approximately 537.6 cubic inches. A unit of dry volume or capacity in the British Imperial System equal to 8 quarts or approximately 554.8 cubic inches.
What do you think, did I pick a peck? We raised sweet peppers this year. Of the genus Capsicum and family solanaceae..which includes the deadly nightshade, potatoes, and tobacco, ....this should not be confused with the plant piper nigrum --the one that produces the black peppercorn seeds.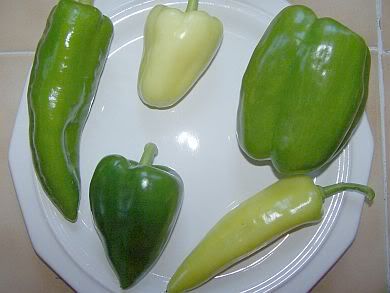 Back in the house and ready to pack....starting at the top with "Audrey's" Lemon Yellow..clockwise to Green Bell, Sweet Hungarian Fryers, Green Pimento, and Rellanos for stuffing...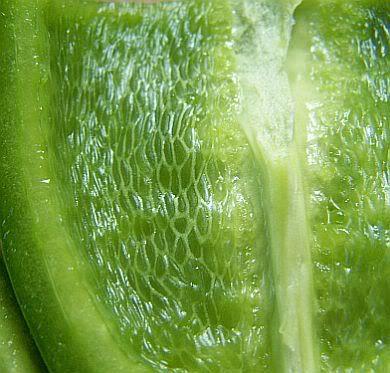 Slice, dice, pack and freeze...I notice YO's inside the pepper! and my knitting calls to me!