My walking stick sits by the front door..I have tied the bells to it so I make noise when I walk...so they can hear me coming. I think twice before going out for walks lately...and there are times when I decide not to go outside at all...I've been thinking about the bears. They have been behaving badly.
There is one bear in particular. who has been hanging around at the dumpster near the end of the road. He has ventured up the road and onto our property, sniffing around. I want to avoid him. I'm not looking conflict.
Last weekend, as I turned the corner, I saw him on the hillside. He was pawing through the trash that he pulled out of the dumpster and up into the wooded area. The photos that I took of him were blurry...I think I was so full of fear and exhilaration that I must have been shaking...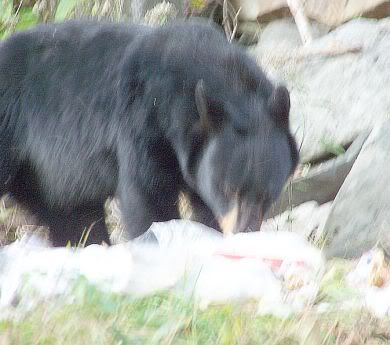 Or maybe it was the bear who was so full of motion that I couldn't quite catch a good photo of him/her...these are the only two photos I dared take of him, I don't trust him, I cannot even look into his eyes.
It isn't really the bears fault. He is just doing what comes natural to bears at this time of year. He needs to pack on the pounds, and he looks for an easy way to do it. He is not thinking about what is right or wrong behaviour. He acts on instinct. So it is up to me to take precautions to avoid confrontations. I soak rags in ammonia and place them in the trash can. I take my walking stick with the bells on it when I go outside...I sing or talk loudly to announce my arrival...my bird feeders are all taken down...the bbq grill is clean and locked down...and my rabbit has nail boards around her hutch...just in case. And one more thing...this little pocket air horn...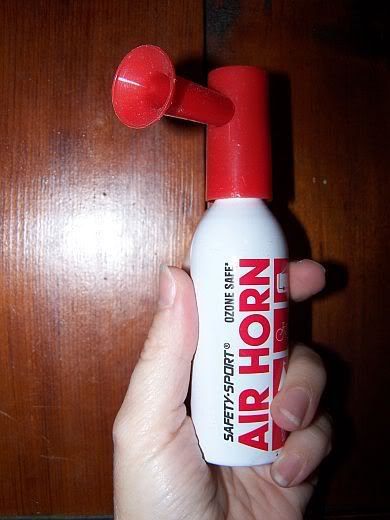 don't leave home without it!
There were announcements in the local news this week, concerning the bears..so I know we are not the only ones that have seen them around. I hope the people at the corner with dumpster have realized that they are creating a nuisance bear by not locking the dumpster and not cleaning up the trash that the bear has already pulled apart. No one likes a bad bear.