This morning my coffee tasted perfect.
There were small snow flakes falling on my way to let the chickens out to range. I noticed that a frog woke up. It was a nice sight to see. There was a little space about 4 inches around, where there wasn't any ice, and the frog was catching some sun. The camera caught a little snowflake behind the frog that looked like a star. It is nice to know the frogs are waking up.
The chickens were waiting at the gate. Yesterday we had a long warm rain and some fog. It helped to eat up the snow. This morning, I smell the earth for the first time this year. The chickens run to the side lawn, eager to find something good to eat.
The tail's are up, all is right with their world.
I'm glad they are healthy after being in the run for so many days. They don't like to venture out onto the snow unless I put hay down, and I don't do that very much.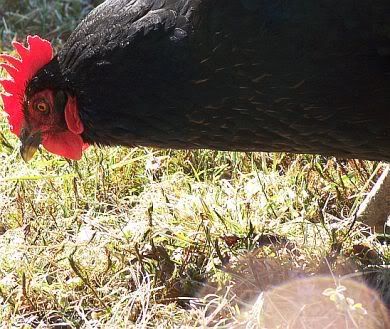 I originally took this photo with the intent of showing you what a good healthy chicken comb should look like. See how red and full it is?
When I opened the file on my computer, I noticed something odd at the bottom of the photo...it looks like a glory or a halo or something....but I just love the shape! I wish I had captured the entire thing...(ps..thanks to rurality for the link to the optics page! It was just what I was looking for!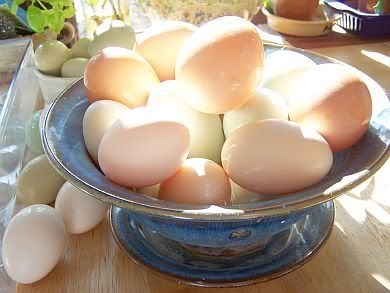 The chicken featured in the photo is the one who always lays the humdingers. That is what we call those eggs that are larger than the rest. I think I might need to make a quiche or bake something to use up the humdingers...they are laying faster than we can use them!