...try saying that 5 times fast!
Yesterday was Fastnacht, Shrove Tuesday and according to German and Pennsylvania Dutch folklore, if you didn't make the fastnachtlauchen, your flax crop will fail...and you might even get a few boils...
Fastnachtlauchen is a little cake made from sweet yeast dough which is fried. According to "Eastertide in Pennsylvania" by Alfred Lewis Shoemaker--fastnachtlauchen "possessed virtues beyond the nutritional".
Leaving 3 fastnachtlauchen on the windowsill to be consumed by a little man ensured good luck and apparently, if you fed fastnacht crumbs to the chickens, it would help them to lay well,and protect them from hawks.
The leftover lard (used to fry the cakes) was saved for greasing the wagons and spade --it was thought to keep the insects from the fields.
But most interesting to me, were the customs and beliefs that centered around Fastnacht and Flax. First of all, no spinning of flax on Fastnacht. It was day for dancing...and the higher a couple could leap, the higher their flax would grow.
If it froze on Shrove Tuesday..it would be a good year for flax. If icicles on the roof were long, even better...the flax would grow long too.
And even "more complex- if the sun shines in the morning... the flax would be planted early in the year...if it didn't shine till the afternoon, it would be planted late."..humm...sounds like they are confusing that one with groundhogs day.
Not being one to destroy traditions...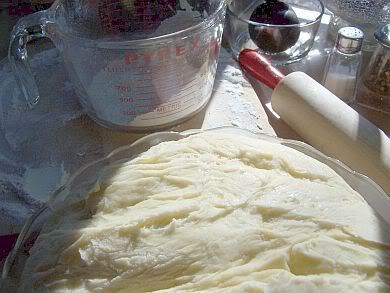 I dutifully made a small batch of fastnachtlauchen...and I left 3 cakes for the little man, fed some crumbs to the chickens, saved some of the vegetable oil in a jar and stashed it in the greenhouse, did a little dance, and jumped as high as I could. It was freezing yesterday, but only a few icicles were on the eves.
I was the first one out of bed on Fastnacht, so I was known as (der has lumba- or the cleaning rag!) or (die gluck - the cluck!) or worse (der schpeel-lumba-suckler - the dishrag sucker!)..but I didn't go stand in the yard stark naked ...(that was said to prevent one from getting sick that year)...humm..standing outside in my birthday suit in 22 degrees at 6:30 AM didn't seem like a good idea, so I made fastnachtlauchen instead.
By the way, would you like some Fastnachtlauchen? They are great for dunking..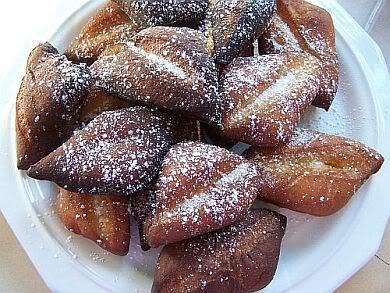 If you would like my recipe, email me and I will send it off to you.
Oh, just to be on the safe side...I didn't do any spinning, but I did do some weaving on the RH, which I finally, successfully warped..so this is for Judy, who requested a photo....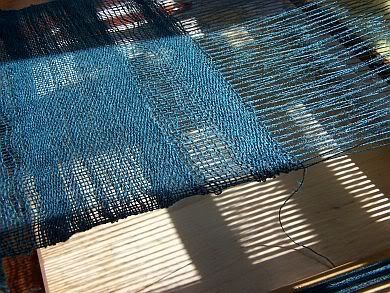 ps... all kidding aside, it is interesting to note how the making of fastnachtlauchen used up the yeast and animal fats...both of which were to be cleaned from the house before passover....