While enjoying a telephone conversation with an old friend, she reminded me that I had knit an earflap hat for her, several years ago. She went on about how much she wears it, and how much she loves it. She also reminded me of something else...the conversation went like this:
L
: "You've probably forgotten what I asked you to do for me."
me: "er, um....refresh my memory and I will let you know if I forgot or if I haven't gotten around to doing it just yet"
L: "I had asked you to make one for T."
me: "oh yes! I do remember that now...I will get to it soon, I promise."
L: "I need it before his birthday, or at the latest, by Dec. 24, 2009."
me: "OK..gee, I'm sorry I haven't done it yet...I've been really swamped."
L: "remember that washcloth you made for me? well, I've used it so much that it is coming apart...could you fix it?"
me: "Yikes, I must have made that at least 5 years ago...you still have it? Throw it out, I'll make you another one."
I got busy on the earflap hat. I reached for my old stand-by pattern for the red baron hat, don't know how many of these I have made over the years...but it is a quick and fun pattern that you can add whatever mods you want.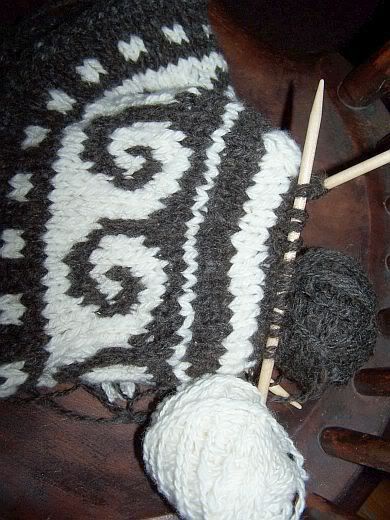 I used some handspun Finnsheep yarn that I had in my stash...the white Finn is from Judy and the black Finn is from Grace. I'm lucky I live near Finn Farmers.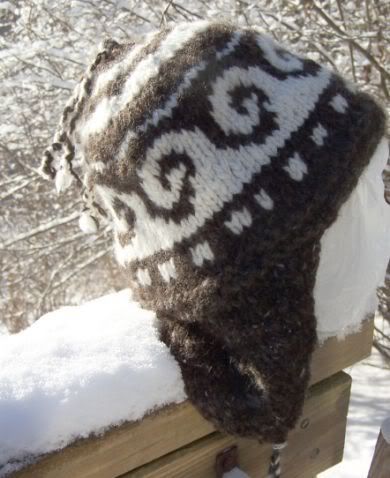 The hat was finished over the weekend. Now to pack it up and send it off with a few washcloths...I'm sure T will get some use out of the hat right away...after all...winter isn't over just yet...