Remember these? Last fall I lifted the bean plants and hung them on the fence for the sun to dry the pods. These are a french-fillet or gourmet-style-bush-growing-stringless-green-bean....OK there might be a few wax beans in the bunch.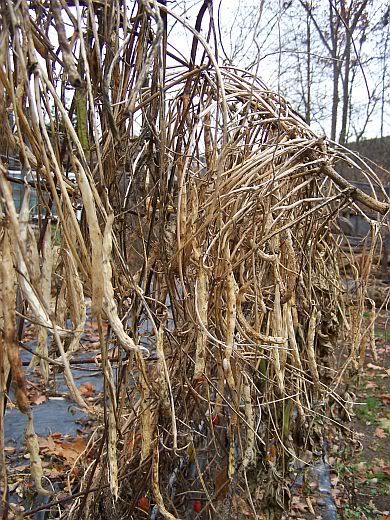 Before the snow started to fly, I picked the pods off the plants, and stored them in a washtub in the mud room, near the wood/coal stove. As late winter turns to early spring, I decide it is time to finish the job. I pour them into a large brown grocery bag, and gently step on them with my stocking feet...I hear and feel the dry pods crunching under my toes... I need the seed for this years crop...it is time to thresh and winnow...
Time to separate seed from chaff...
The wind carries off the chaff as I pour the contents of the basket into the sieve, and the contents of the sieve back into the basket. As I work, several beans bounce out of the basket and escape down the hillside...they slide on top of the ice until they find a crevice to hide in. What will become of them? Maybe a mouse will find something to nibble on...maybe they will be washed away with the spring rains...but maybe, just maybe..one or two of them will take root and grow. I select 4 perfect ones to throw...one to the north, south, east, and west. I throw them as far as I can. An offering.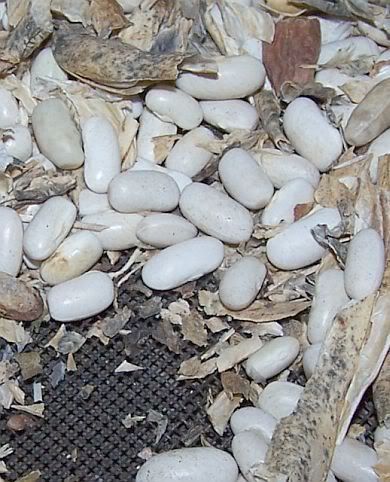 Time to select and sort ....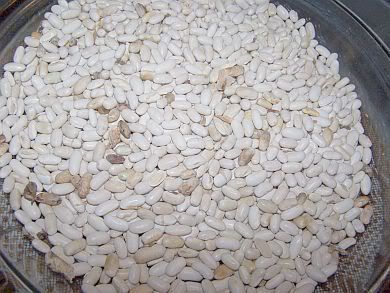 Each beans fate is decided. Only the best...nearly perfect seeds will go back into my soil to plant in the month of June...the misshapen and odd colored...the rejected or broken bean seeds will be soaked -until they sprout- and will be served up to the chickens. And those that are left will fall into the soup pot.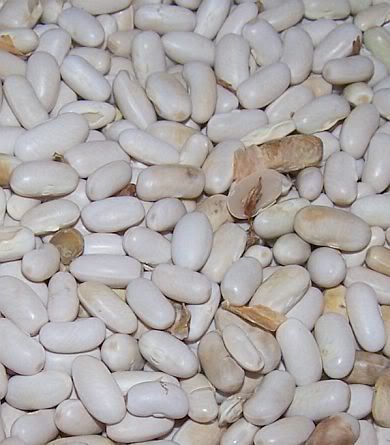 And the cycle is complete...or is it just starting again?