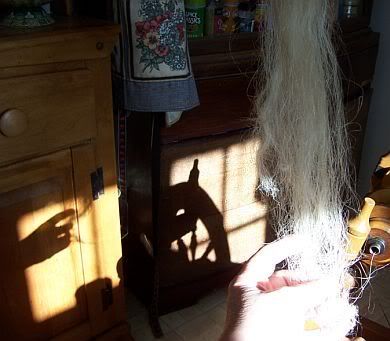 My spinning wheel saw its shadow..six more weeks of winter.....
Spinning flax..... I find that it is easy to understand all the mystery and magic and folklore that surrounds this fiber.
With my wheel parked in the last of the January sunshine, my hands practice the draft, and pulling off the strands from the distaff. At one moment, my hands work quickly, they are efficient, confident and skillful...their timing is perfect as they dip casually into the water pot to smooth and return to the distaff to select the next strands of flax.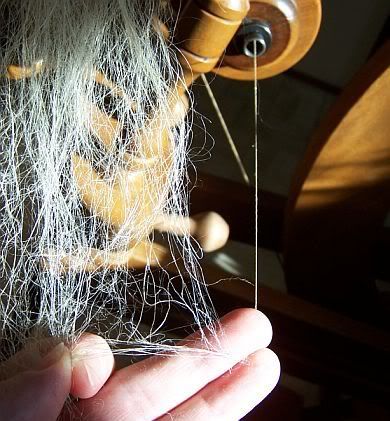 It is a curious thing, how the flax turns to linen at the moment it passes between the index finger and the thumb...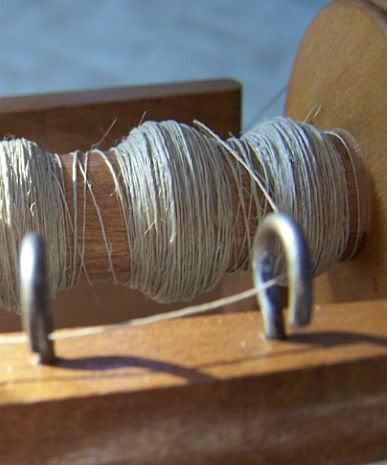 ...just as I become relaxed in what I am doing, my hands fumble, too much flax is sucked into the zone, and suddenly I am not the master of this ancient herb. It has me bewildered and humbled once more. It snarls and snags upon itself in an instant.There is no turning back easily, as there is with other fibers. As if encountering a large knot at the base of the neck of one's own hair, it refuses to untangle, it is unforgiving.
When I get it right, I look in amazement at two strands plied together that equal the width of the letter "I" in the word "LIBERTY" on a dime. The strength of this thread will test any vacuum cleaner.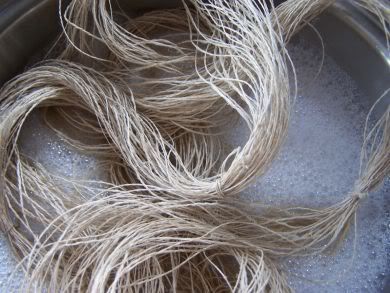 In the last stage of its labors, the spun flax thread must be softened. I boil it on the wood/coal stove...for a few hours in soapy water. Angel hair pasta...
Flax is a fantastic plant. I'm enjoying learning all I can about it. The flax featured in these photographs is not my own homegrown...I need to practice a little longer before I use what has taken me a summer to grow and a fall to process..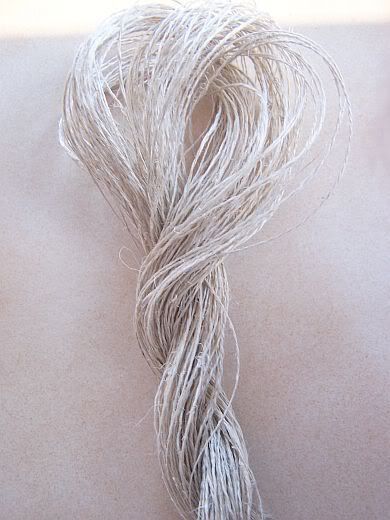 This spun linen will someday return to the earth from which it came...but that too is one of its qualities that enchants me.
a poem by Richard Frame
"A Paper Mill near German-Town doth stand,
So that the Flax, which first springs from the Land,
First Flax, then Yarn, and then they must begin,
To weave the same, which they took pains to spin.
Also, when on our backs it is well worn,
Some of the same remains Ragged and Torn;
Then of those Rags our Paper it is made,
Which in process of time doth waste and fade;
So what comes from the Earth, appeareth plain,
The same in Time returns to Earth again."
Printed by William Bradford in 1692 in his "A Short Description of Pennsylvania"