This is an old scarf...one that I knit from yarn that I purchased a long time ago. We won't focus on exactly how many years ago that was. The yarn came from Italy. It was handspun, handpainted...it knit up quickly on size 15 needles in garter stitch. I call it my January scarf, because I often wear it in January when I NEED color around me.
Whenever I wear this scarf, it gets comments and compliments. It's because of the wool, and the colors...The stitches and the pattern aren't anything special.
The other day it occurred to me that I couldn't recall the last time I washed it. Oh my. We won't focus on what two things that may imply about me.
The decision to wash the scarf became analytical. Aspects of the scarfs past became important. Would a good washing destroy it, Weaken the integrity of the wool? or worse destroy or disintegrate the dye? Maybe I could just wash it a little bit and lessen the risk. Maybe I shouldn't wash it at all? It had taken years to acquire the "patina"...perhaps I was acting on aesthetic impulse...and the idea that cleanliness is desirable...old and dirty compared to clean and new.
Finally, it was decided that it deserved a good soak in a warm bath. The results were amazing to my eyes, but I don't know if the camera captures it.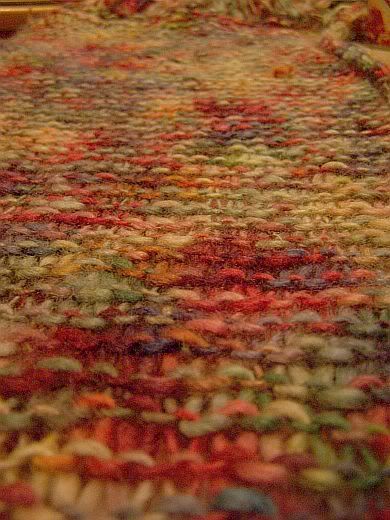 Like the ceiling frescoes of the Sistine Chapel, the colors popped. Accretions of time and dust removed- original tonalities revealed. I can't decide if I like it as much.
But at least there is a little bit more color in my world now.