After spinning grey laceweight alpaca for weeks, a gal needs a break. Not that I mind working with luscious alpaca mind you...it's just that from time to time a spinner has to put the top down, step on the gas, and let 'er rip.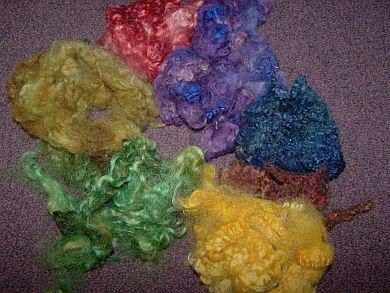 I had a little bag of stash that I purchased at Rhinebeck for just such an occasion. Curly Wool Locks from Lisa Ann Merian at Spinners Hill. She really had some lovely colors to choose--selection by handful out of large baskets--I couldn't resist. The breed is Border Leicester- Finn Cross.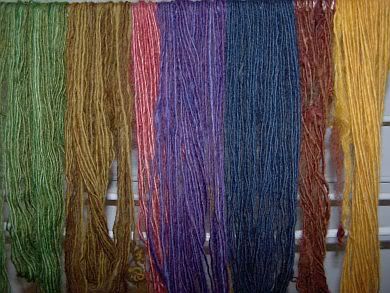 Prepped the locks with combs, dizzed them off...spun singles with abandon on the Traddy. It was a treat for my index finger and thumb to feel the slubs fly by! And the rich tones of color were a delight to my eyes.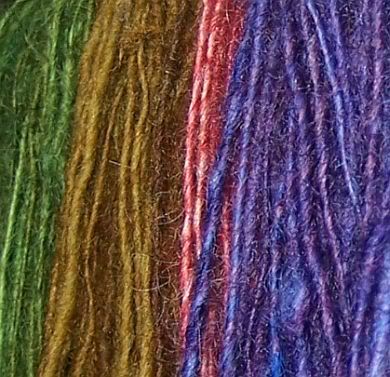 My eyes are not yet accustomed to the lack of color in my world. After all that color that was in the garden all summer and the intense brilliancy of the autumn leaves....the landscape is now dull, and sunlight is diminishing daily. The curly, colorful locks were the remedy for the soul.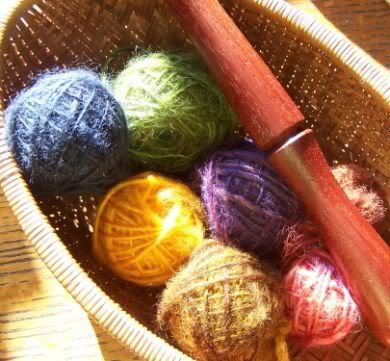 Color in the workbasket can be so soothing, especially with a little sun shining on it.