It is the time of year that I get to thinking about ants and grasshoppers...
There is always so much to be done in the way of harvesting and putting the garden to bed. Days go by, and I feel like all I do is work, work - work and store things away for the winter. I feel like an ant.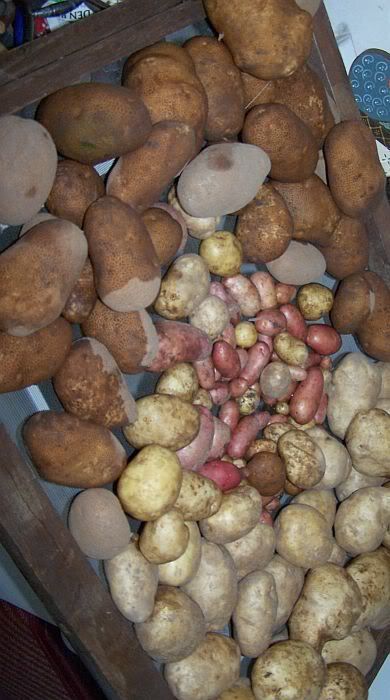 Potatoes are taking center stage this week. I'm getting pretty handy with a fork. I only forked 2 out of this entire bunch. An old window screes holds the result of one days digging. They are washed and left to cure for a few days before storing. The harvest was good this year, with only a few white ones showing some presence of solanine (green). I tossed those over the hillside. We raised several different varieties...russets for baking, and whites for boiling...and fingerlings for roasting...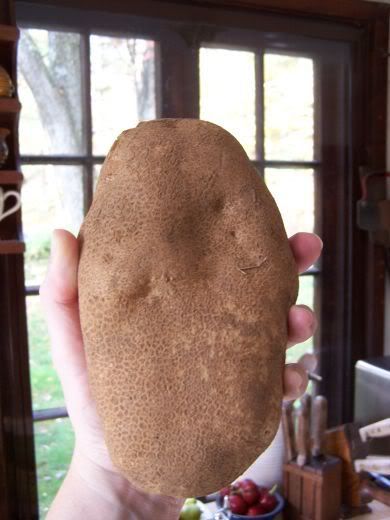 This one wins the prize for the biggest...so far.
And this one wins for best, ahem, artistic expression? Or as my husband says, the biggest "ass". You need a sense of humor and an active imagination when you grow your own veggies.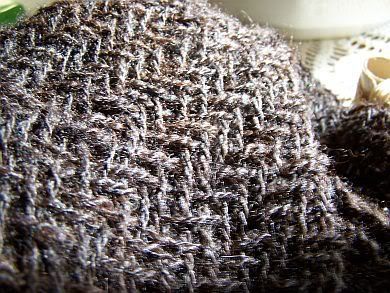 And lest we forget that this IS a fiber blog...here is a sneak peak of something I have been working on for what seems like a very long time....some handspun alpaca woven on the tri... I do have a plan going on here...really I do. It has just been taking me so long to do it I may have forgotten what it was. No worries, I'll figure something out!
And because even us ants have to have a little fun...tomorrow I take the afternoon off and head to Pocono Manor to visit a few friends (grasshoppers) who are attending (playing) SOAR (Spin Off Annual Retreat).
PS ...note from author....It was not my intention to offend anyone with the potato photo, the human body is a work of art and the potato was a reflection of that. I apologize for violating the terms of my photobucket agreement. I must have missed the part about vegetables....