Today was a crisp day. It started out overcast and dusky grey. There are a few whitetail that, lately, have taken to bedding down in the side yard. They offer a good study.
If only there were not so many things that need doing. I'd take out a few pencils and few sheets of paper, and spend some time with them.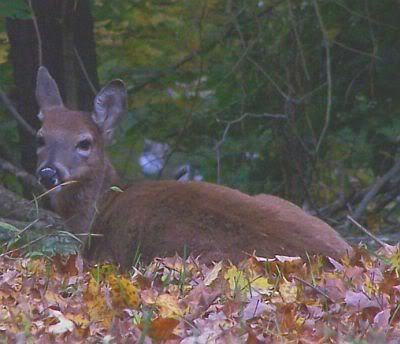 I take out my camera instead. It's quick, but not as relaxing as a pencil would be.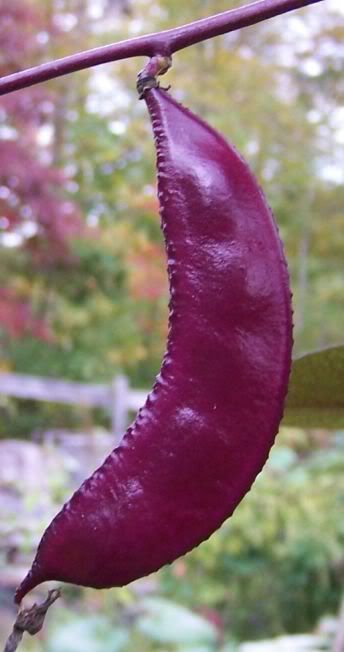 My hyacinth beans are finally forming seed pods. I was worried the frost would take them before I would have any seed to save for next year. They provide some of the last color in the garden. The violets and purples close out the year in my garden.
Grandpa Ott..(as promised for Cathy)
Most of the color now is overhead. In the next few weeks, it will peak and fade and finally fall to the ground.
Cutting the corn stalks down and making a shock or shook- is on the top of the to do list. I left several ears on the stalks, again, for my seed bank. But today, I discover that something else has been helping itself to my bank.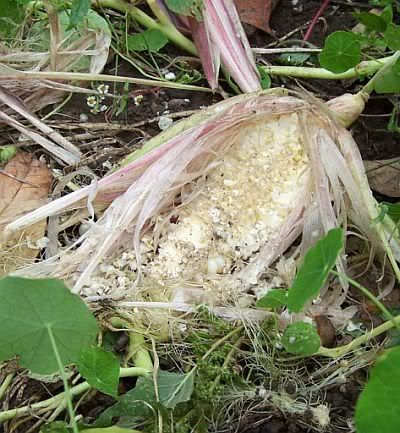 Speaking of my bank...pardon me whilst I sing a few verses ... " O The Wells Fargo Wagon is a 'comin yander...."
And has anyone else noticed that in sec. 325 of the Great Bailout Bill, 148 million has been marked for wool research?