My good friend and neighbor
Happy Acres Judy
, has been sharing her harvest with me. A week ago, it was some nice cherry hot peppers...this week it was apples! Thanks Judy!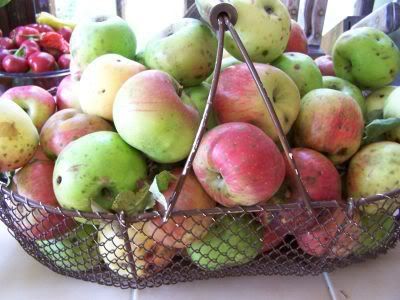 "Give me spots on my apples, but leave me the birds and the beeeeeesss...pleeeease!"
Remember the blossoms in May? Here is the fruit...crisp, sweet, juicy. Thank the tree...and thank the bee.
My virtual good friend Judy Smatterings has been working on apples this week also...she has a good recipe for freezing them, and mentioned her "gizmo". We all have our "gizmo's" of choice...mine is an old one that still works just fine..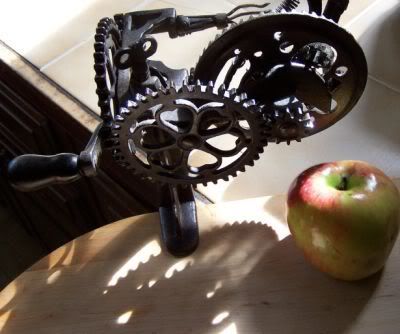 When my husband was a young teen...he cleaned out a chicken coop with his friend. When the job was finished, the owner of the coop directed the boys to select something they wanted out of an old shed. My husband took the gizmo. His friend took an old fashioned crank ice-cream maker.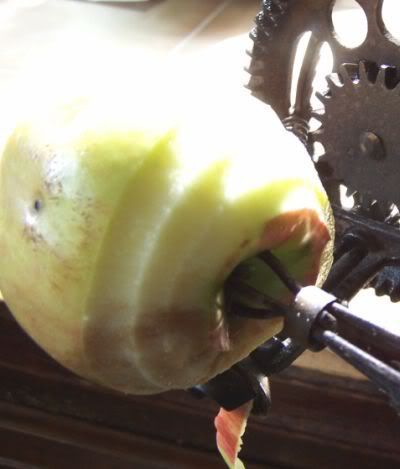 I made pie filling with some of my apples. The recipe calls for 6lbs. I have more apples than that..so I will try Judy Smatterings recipe and freeze the rest..tomorrow. I plan to try an apple pan dowdy too....yes, this just might be the year of the apple pan dowdy!
Pint jars were handy, so I filled those. Six pounds made 5 pints. They cook down. Seems like a lot of work...but the tarts I will make this winter will be easy. Pop off the lid and away you go!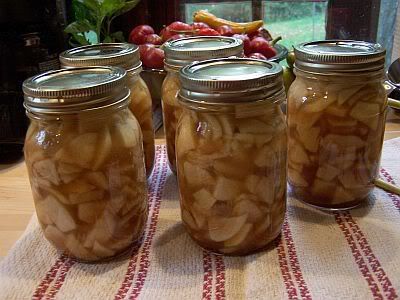 6lbs of fresh apples, peeled with a gizmo, and sliced. (You can dip them in ascorbic acid if you want them to stay nice and white)
2 cups of sugar stirred into the apples...and let sit so the juice can start to run...about 30 minutes. This is exactly the amount of time it will take to get your jars and lids ready.
Stir in about 2tbsp of flour and some cinnamon and a pinch of nutmeg and the juice of half a lemon.
Cook over medium heat until it starts to bubble and the juice thickens. Pack into jars, fill to 1/2 inch head space and process in a hot water bath for about 25 minutes. If you need more syrup, you can make some ahead of time...just use about 1/4 cup of sugar to 1 cup of water..more or less depending on if you want it thicker or thinner.
Oh, and don't forget to wipe down the counters and mop the floor when you are all finished...that gizmo sprays apple sticky-ness all over the place.