Sixty-four days ago, my corn looked like this....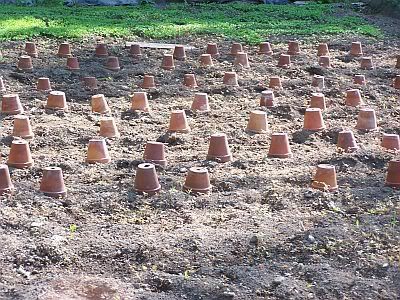 Remember how I was telling you that I had to cover the seeds with clay pots so the chipmunks wouldn't eat the germinating kernels? Remember how I was wondering if it was worth it?
Today, it looks like this...
There are few things that I wait on the edge of my seat for...ripening corn is one of those things. For the first month, I wait and watch, as the leaves get bigger...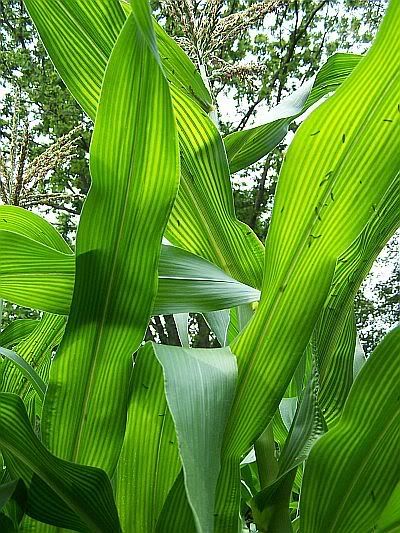 and then the second month...I wait and watch as the tassels (the male flowers) grow, and the pollen hangs...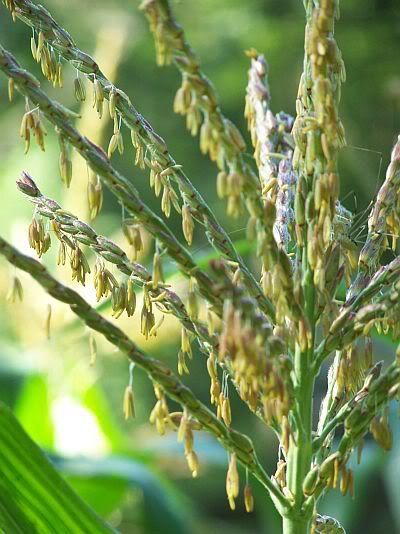 ...and I wait for the wind to carry it...amazed at how each strand of silk (the female flowers) represents a kernel of corn. Sometimes, we walk throught the corn and shake the stalk...just in case the wind forgets..And it is good to plant the corn in blocks. Corn pollen is heavy...sometimes it doesn't go very far.
I wait and wait..for the kernels to be ready. I've grown corn many years, the waiting can drive you crazy. You can tell it is getting ready because the silk at the top starts to look dark and dry. When I cannot wait any more, I pull down a husk and peak at it. What do you think? Ready?....or not....