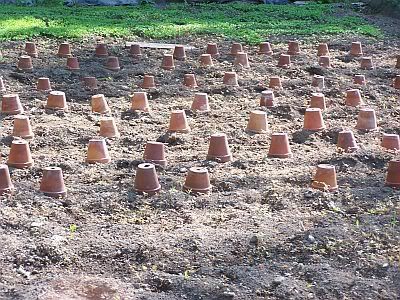 This time of year the garden gets invaded. It is amazing to see how many life forms want a piece of it. It is a battle trying to raise things, and protect them from the many forces of destruction. I don't like to interfere too much...I like to let nature take her course and decide what will be-- most times. But enough is enough.
I've had to plant my corn and beans twice this year. The chipmunks have stolen the first planting...leaving me with 3 bean plants and about a dozen corn plants. The only method that works for me is to cover the seed with my clay pots until they germinate and set leaf. I check the plants and uncover them when I am out working in the garden. Once they are about 2 inches high, they no longer interest the chipmunks, and I can remove the pots.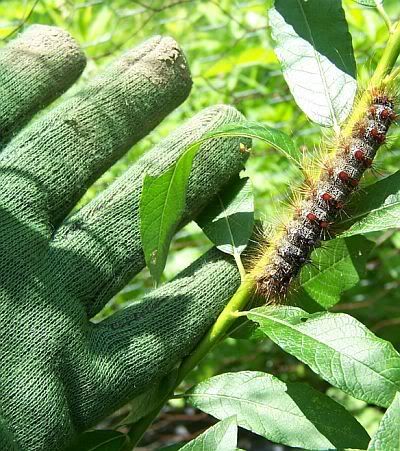 Most of my methods involve hand removal of a pest. The gypsy moth caterpillars are almost as big as my fingers, and I have to wear gloves to remove them- ugh. I try to erect barriers in those places that I cannot reach. They are very bad this year, mostly defoliating my largest oaks. The loss of sunlight on the leaves is costly, serious...and sad.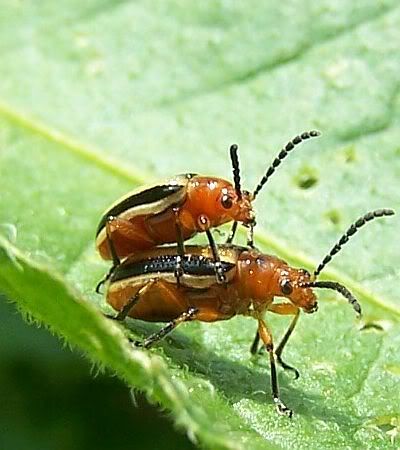 The striped cucumber beetle has arrived and is busy in my potato patch. It is not so much the damage they do (chewing the leaves), my squash is infected with the bacterial virus that they spread. Hand removal works best with these also. The best time to catch them is when they are- ahem- engaged.
If I hold a small bucket of soapy water beneath them, I can shake the leaf they are on,and they fall right in. It is also a good time to check the underside of the leaves for eggs of potato beatles and eliminate the next generation.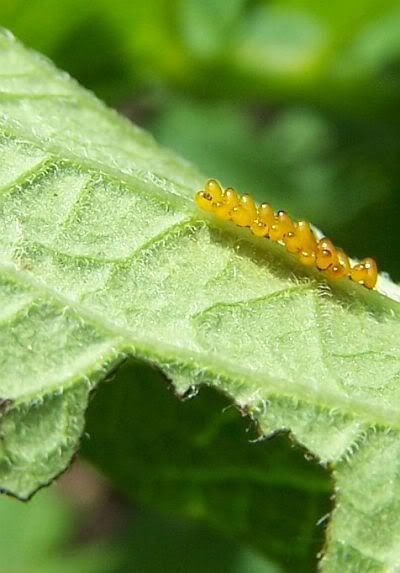 Is it worth all this effort? The constant vigilance... ...sometimes one gets weary of the battle...but I think of the harvest.