It is tedious work, but finally the currents are picked and jarred.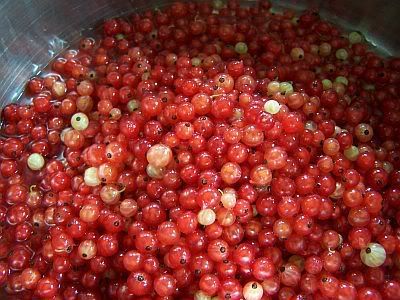 It isn't as fine as Bar-le-duc jam...I don't have any spare goose quills with which to de seed my currents...so I smash 'um up with my potato smasher.
After a trip through the jelly bag, the sugar is added to the juice...(it is best if you warm your sugar first) ...and bring the mixture to a rolling boil for exactly one minute.
Pour, wipe rims, top with sterile lids and rings, and process in a hot water bath, for about ten minutes.
There was satisfaction today as I admired the translucent jars on the counter...there was also lip smacking of the taste tester.