Last weekend, The Greene-Dreher Historical Society hosted an open house, and Grace Hatton and I were demonstrating and speaking about spinning, spinning wheels and general topics related to the craft.
It was the first time I "dressed" for an occasion. My ensemble included a pinner apron, and the Lacy Winged Shawl that I knit from linen.
I carried a authentic reticule, and wore a pair of antique spectacles that worked just fine. While doing some research on what I should wear... I was enlightened when I discovered that because my skirt and blouse and shoes were from the wrong century, I was deemed to be a "farby" in certain circles.
"No one really knows where the term "Farby" originated, but most people believe it started when "thread-counters" (ultra hard-core reenactors who have an eye—and a mouth—for authenticity) would spy something wrong and say, "Far be it for me to say anything against what you are wearing, but that pin/brooch/fabric/plate/whatever is not period (i.e, correct) for the early 1860s."
A salesgirl from a dress shop in Gettysburg emphasized to me that "no one wants to be called a farby." No matter, it was all for fun.
Grace wore a costume too. Her ensemble was less farby-ish. She is pictured here spinning on her Londonderry New Hampshire Wheel. What you cannot see from this photo is the beautiful petticoat she is wearing, along with a pair of pantaloons that she made.
I've enjoyed learning about period dress, and will continue to explore this area. There are many ways to learn, but the easiest is to just look at old photographs or paintings, and take note of the styles.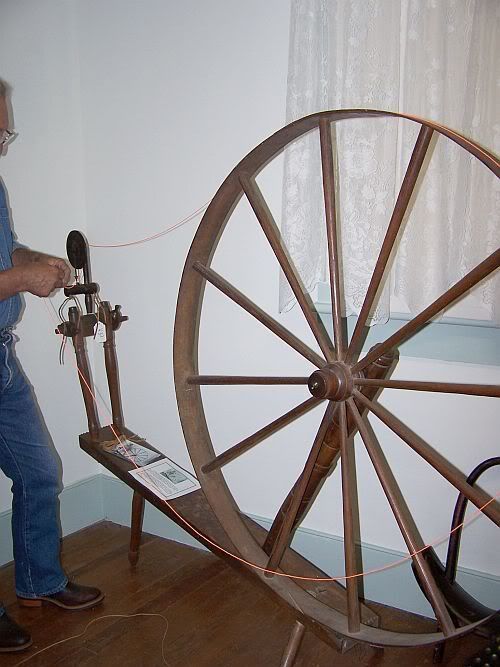 Soon after we had arrived, the secretary of the historical society informed us that there was a Great Wheel in the upstairs portion of the building. She was wondering if we would like to take a look at it.
It was a lovely wheel that was in very good condition. It had barrel tensioning, and a wheel head like I have never seen before. Fred noticed that the accelerating wheel had a wooden post on one side, and on the other, a metal thread with a bolt at the bottom that could adjust the head, much like the maidens on my wheel would. It was very interesting. If anyone else has seen a wheel head like this, I'd welcome your comments and any information you might have about it. It had no markings on it, but it looks to be a Denio wheel head.