On Friday, late afternoon,I had a chance to go down river and see a cria who was just one week old. For those who are not familiar with the word, a cria (cree-ah) is a baby Alpaca.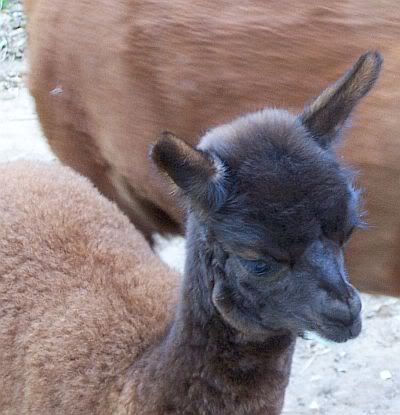 Meet Isabella...(KIMBERLEE'S RC (RIVER COUNTRY) ISABELLA ). She belongs to my friend Louise of Kuhn's River Country Alpacas and they are very happy to welcome her to their world (er- herd).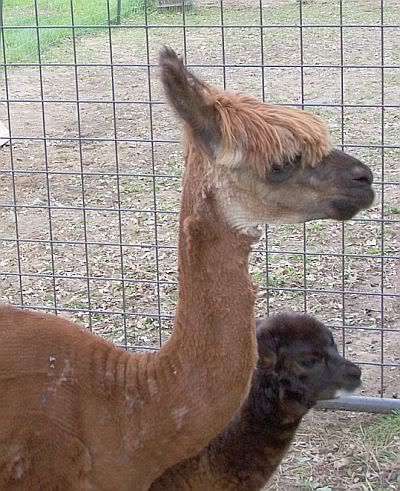 Here is photo of Isabella with her mama.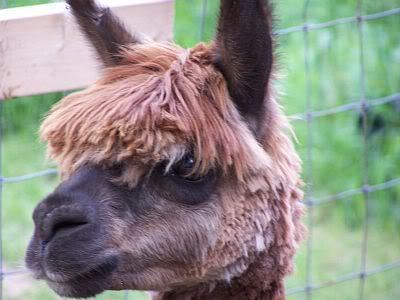 The proud mama's name is Kimberlee. There was also another family member nearby...
this is her step sister, Sassy... They are all members of the biological family known as Camelidae.
Isabella is a real cutie. She makes funny little noises. Her vocalizations seem to be a combination of mewing and baaing with a sort of humming that would change in pitch from time to time. If you have ever played the kazoo, or comb & paper, it sounds a bit like that. I wondered what she was saying in Alpaca language.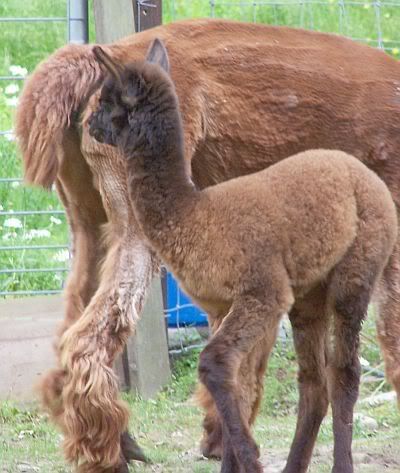 I have never met a baby alpaca. For someone who is so small, she made a big impression on me. Isn't her color grand? I dream about the nice rich and luxurious fleece she will produce, resilient and strong....having a natural silky luster...with a nice long staple, maybe an excellent crimp and maybe possessing a micron count of say 21-22....that can be spun either worsted or woolen..that can be knit or woven ...having a soft handle...
In a word, it is what we spinners like to refer to as- YUMMY.