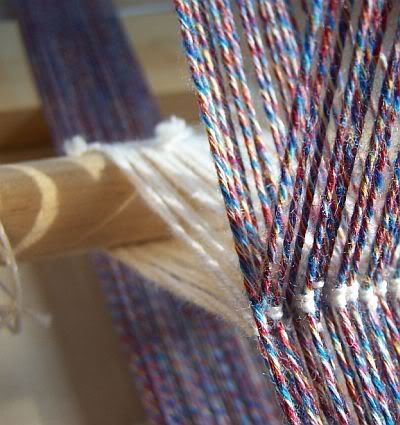 Tension is a word that a fiber artist uses a lot. Knitting requires an even tension. A Spinning Wheel has a tensioning device to tighten or loosen -depending on the type of fiber and twist needed. Sewing machines have a dial to set the tension of the thread for the fabric that will be sewn together...and I am now discovering weaving requires the right combination of tension distributed across the heddles and the warp and woof.
I warped the Inkle loom with the help of a nice little tutorial by Ruth that I found on YouTube (with some great piano music btw). I am working on my edges and will try doing a few pick up patterns when I can master the correct amount of tension I need to make a decent edge. Grace taught me how to do the pick up patterns on the Double Hole Tape loom that Fred made. You should go and take a look at these beautiful patterns that she has woven on her tapes. I am almost finished with my first one, but I have a long way to go before I can find my "tension zone". When I look at the entire length of tape that I have woven, I can see areas that have too much tension (skinny)...and those with not enough (wide).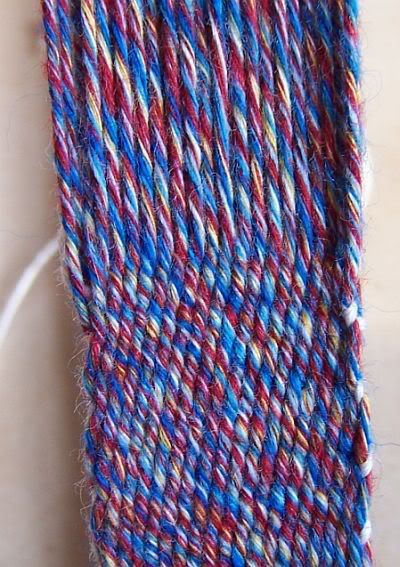 There is another kind of tension in my life these days, it is of a stressful nature...(you know the type, we all do)...and I am trying my best to manage it...It is not as easy as managing the tension in my knitting, spinning or weaving.... Too much tension in our lives is definitely not a good thing. The key is learning how to relax. I relax by doing fiber arts. Sometimes my tension from real life, spills over into what I'm working on, and the article I'm working on contains the tension. It makes it visible to the eyes...I can see it in the bands that I have been weaving. I strive to maintain an even tension, it takes practice.