It was a very cold and frosty, but sunny day today.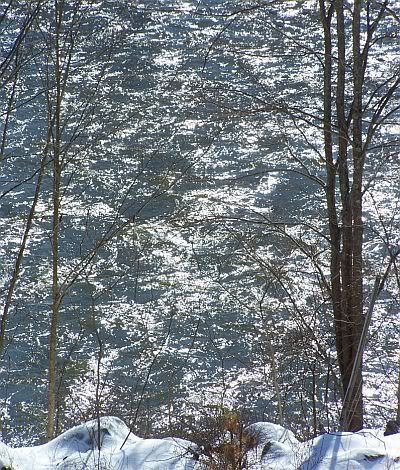 The sun was playing with the surface of the water on the river. From my vantage point, it made for interesting patterns and contrasts. I didn't walk very far just a short jaunt down to the river and back. The wind was cold and cutting. My head, however, was nice and warm because I was wearing my new bunny fur hat!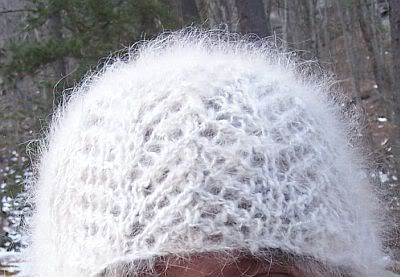 Anne from Wooly Wonka Fibers has been having a WIP Wednesday over on her blog (wip-that is work in progress for all you non knitters). A few weeks ago, I noticed she was knitting a beautiful pattern that she had designed. She was knitting it out of Bison, and she called it the Belle Starr hat (after the infamous female outlaw). When I first looked at it I imagined I would want to knit it. Soon after that, she offered it as a free pattern. Thank you Anne! (You can find the pattern on her blog, or on Ravelry.)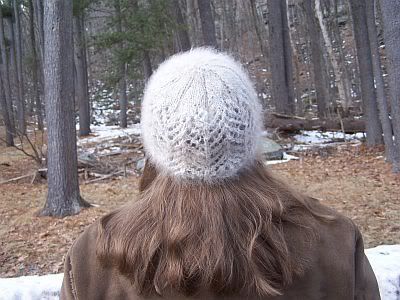 I decided to knit my Belle Starr hat out of my handspun angora. Pure Angora hats are often to hot for me, but done in this lace pattern, the holes provide a little bit of ventilation ;-)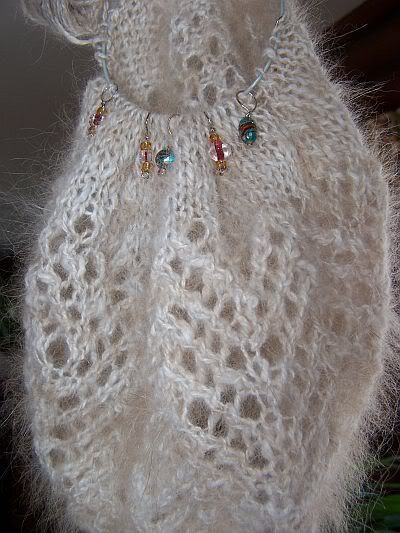 The pattern was quick and easy for me to knit. While I was knitting it, I wondered if it would fit properly, especially around the brim. I always love that moment of truth when a hat is off the needles, and one tries it on for the first time...perfect!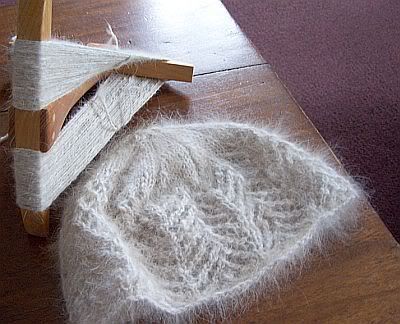 I may have enough angora left to knit a pair of fingerless mitts....
I will be wearing my hat outdoors later tonight...be sure to look for the eclipse!