The Ice Queen is finished (ok, except for the blocking....and pictures to follow...) It is a good thing the Ice Queen is complete..as it seemed that each time I worked on it, bigger and bigger ice storms were happening. Really. The night that I was working on the beaded picot bind off, the skies produced this...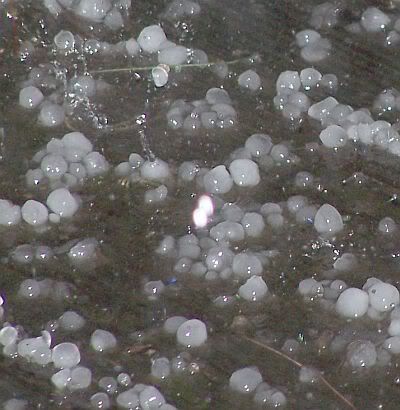 Nice sized hail, eh? Bigger than peas, not as big as dimes. Seeing the hail reminded me of a winter task that needed attending to.... thrashing or threshing, both words would be correct. Anyway, my edamame soybeans that I grew last summer were in need of a good beating. These soybeans are the kind that you pick and eat fresh from the steamed shells. I had saved a few rows to dry and plant this year.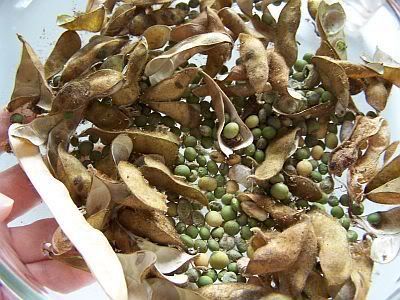 Much easier to thrash than stringbeans, the shells of these soybeans opened up with just a hint of a beating. I sorted and winnowed, saving a few to plant this spring...along with some choice beauties to throw into my sprouter.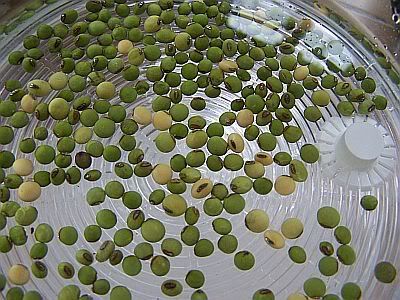 In a few days, they will turn into tender edible sprouts to garnish my salad along with the radish and broccoli seed sprouts from my personal seed bank. Yum. This time of year I get a taste for something fresh and GREEN. And these are the prettiest shades of green, are they not? They remind me of another task that awaits....
Did you know that wikipedia defines thrashing as~ "Someone who keeps changing their mind (especially about what to work on next). A person frantically trying to execute too many tasks at once (and not spending enough time on any single task) may also be described as thrashing."
With Ice Queen off my needles and this sock yarn in my stash, there is no danger of thrashing going on here...I know exactly what I want to work on next.