This past weekend, we had some old friends come to stay for a few days. It was great to see them and get caught up on what has been happening in their lives. They have 2 large dogs that they brought with them, and we enjoyed their company as well.
But, chickens and dogs don't mix and our chickens were not allowed to free range for a few days. They were all confined to the run and the henhouse. When I went to check on things late Sunday afternoon, I found that the Banty hen had started to lay! There were four nice green eggs! I always wondered if her eggs would be green or blue. Sometimes, you can tell from the color of the earlobes...see?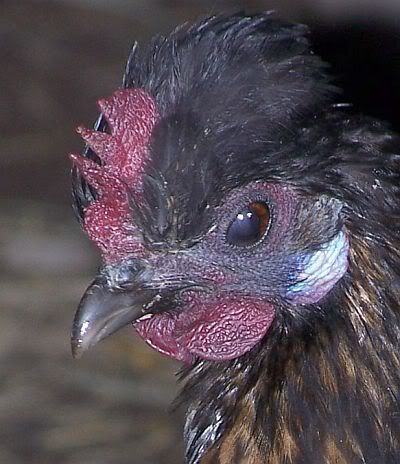 Banty hens are smaller than a standard size chicken. In the photo below, the larger chicken is a standard Cochin rooster, the two smaller chickens standing next to him are the banty rooster and banty hen. They are Aracuna's. Both breeds have feathered legs.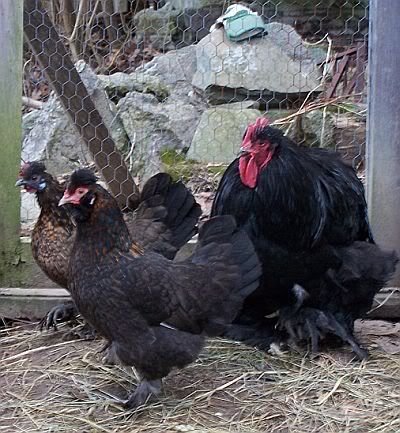 The banty's arrived here this summer, they were a gift from happyacres. I wasn't sure if they would get along with the bigger chickens....I was afraid they would be bullied. But everyone seems to have established a pecking order, and they are doing fine. In fact, I am enjoying the smaller size. They take up less space...make smaller droppings..eat less...but most of all I love the small size eggs! Two of them are equal to about 1 regular egg. Visually, one egg is about the size of a teaspoon.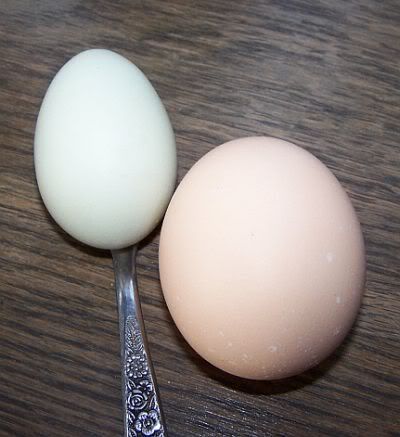 I wanted to taste them. Very fresh eggs are good if you would like to have coddled eggs. I don't make them very often, but now and then, on a frosty morning, a coddled egg with toast and black coffee is comfort food. Coddled eggs are tricky to make. You have to make them "just right".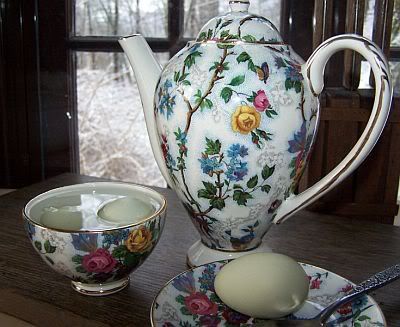 "Eggs are very much like small boys. If you overheat them or over beat them, they will turn on you and no amount of future love will right the wrong." Irena Chalmers.