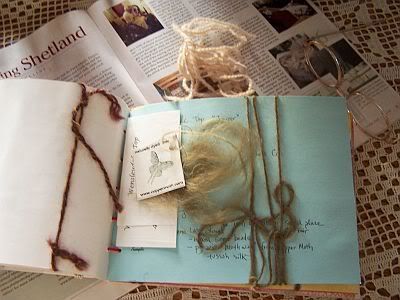 A long time ago, before I had a virtual notebook on Ravelry, I kept a spinner's notebook. The year's end seems like a good time to update my spinner's notebook, as I'm in the midst of cleaning up bits and pieces of past projects...and re-organizing my stash, and writing a TO DO list. Out with the old, in with the new. Cathy has been doing a clean out too. We seem to be on the same cleaning schedule, previously~ we were both washing windows at the same time.
The notebook was a gift to me from my SIL, a non-spinner, very thoughtful person. She found it on eBay. It is handmade from mat board and handmade papers, bound together by ribbon. I record my scribbles about where I brought the fiber, as well as technical spinner speak notations...receipts or business cards...and other flotsam and jetsam I find noteworthy.
As I was adding the PG yarn to the notebook, I remembered that several people had emailed me wondering about the outcome of the shawl that I made with it. I had posted the finished project to Ravelry, in my virtual notebook, but didn't post it here...didn't want any peeking going on, as it was a gift.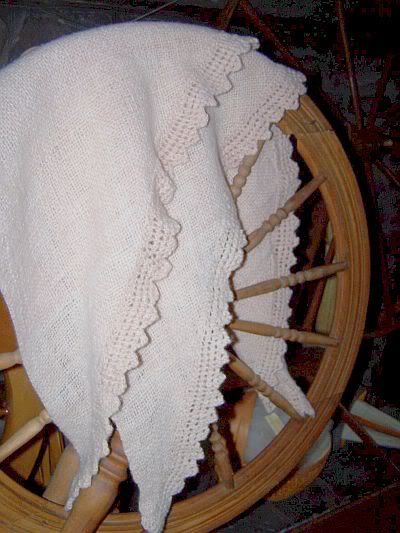 I had success with the hand knit border, which was hand sewn to the shawl with a mattress stitch. Then the entire shawl was fulled, and the take up of the weaving and the knitting was pretty much equal and did not present any problems of rippling (which I feared could occur).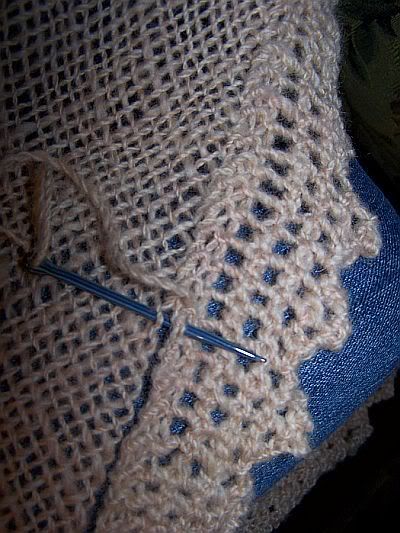 So, virtual notebook updated, natural notebook updated, and blog updated... Sheeze...seems redundant. For all of the years that I have been keeping notes, I find that I don't often refer to them for anything really important other than curiosity or a trip in the way back machine. Am I missing something here? Spinner's, what say you?