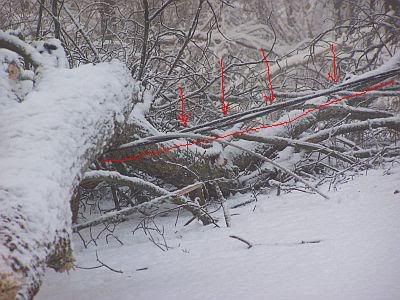 The snow storm that blew in on the 31st, took a huge limb off of our old Maple that grows just outside the kitchen window. The Maple my husband built the swing in. The Maple that holds a soft spot in my heart. That swing was swung on nearly every day. It holds many dear memories.
Pictured above, is only 1/3 of the tree that came down. Note the red arrows indicating the wires that it pulled down with it when it fell.
I woke up before dawn- to see a flash of light outside my window. I've seen transformers blow before. I nudged my husband.."did you see that?" "yep...transformer.", came the reply. After that we lost power...and went back to sleep. We didn't realize that the Maple had taken out the transformer until we got out of bed and went downstairs to make a pot of coffee...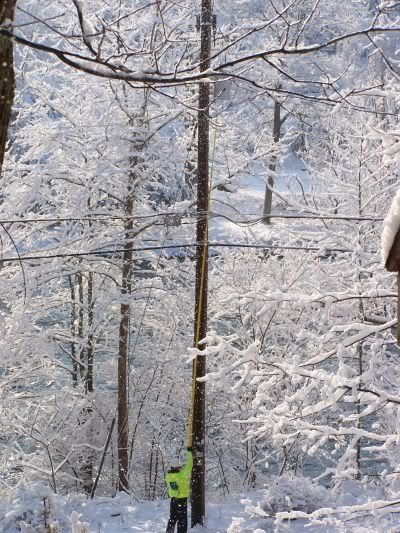 Help arrived after several calls to the power company, and the insurance company... trying to hammer out whose responsibility it was to take care of the damage. The tree even yanked the wires off the house, breaking the old ceramic rings that are mounted into the side of the cabin.
It was really a beautiful day, and I wished I could take photos of the beauty, but was busy recording the images of the repairs. But the photos made for a good analogy in my mind...encouraging me to focus on what is really important.
Noticing the soft blue sky that was starting to show through the clouds, it whispers hope for the coming year. One has to remain optimistic in this day and age. Best wishes to all in the coming year!