My spinning wheels are quiet. There has not been much spinning going on around here this past week. There are other tasks which require attention...mostly garden and sale related doings. Somehow it became September. I was several days into it before I even changed the calendar. Things are busy, and I want to savor the last taste of summer.
The river is lazy and beckons to me. We have not had rain for 12 days, and the water flows gently, the grass along the riverrim waves to me as the water laps against it. I can get lost in the sound of the water flowing by.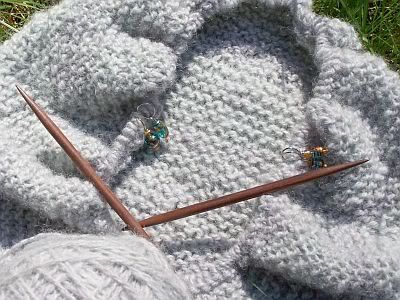 There has been some knitting going on. I am working on the BSJ from E. Zimmerman. This will be a gift. I'm knitting a gift with a gift. Notice the needles.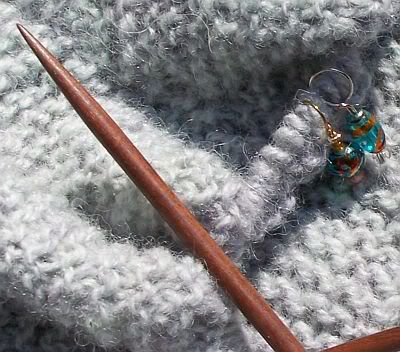 These are a pair of Bolivian Rosewood Needles from Ed and Wanda Jenkins. I won them by entering a contest on the Weekend Whirls --you can join the fun if you are a spinner, just click on the link in the sidebar.
I love these needles. They came personalized, with the name "riverrim" hand lettered on them. They are so very smooth, and sharp. Thanks Ed! Thanks Wanda! I am really enjoying Ed's fine craftsmanship.
The PA Endless Mountains Fiber Festival is this coming weekend. I will be with Fred and Grace Hatton at their booth. My offerings will include some buttons and bags... Stop by and say hello if you happen to find yourself in the Endless Mountains...it is quite beautiful there this time of year. Speaking of saying hello, my Ralvery invite has arrived. I am finding my way around the site, trying to compile my notebook, and finding friends. If you see me, say hello so I can find you!
My name is riverrim, my icon is a whitetail deer.