It has been raining or snowing since Saturday. The river is high and muddy with run off from the surrounding mountains.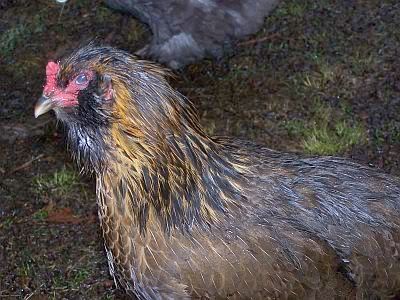 Even the chickens have had enough. (Does this wet hen look mad?) Normally, they don't mind the spring rains, today, they just stand under the rabbit hutches and wait it out like the rest of us.
The river is expected to crest later this afternoon, thank goodness. If the rain were not so bone chilling, I would venture out to get a closer look. Maybe, tomorrow. Yesterday and today, I have managed to find a few hours to do some spinning at the Great Wheel. I am still working on the Finn/Angora blend. The Black Finnsheep wool is from my friend Grace Hatton. She just finished knitting a beautiful sweater, that you can go take a look at on her blog.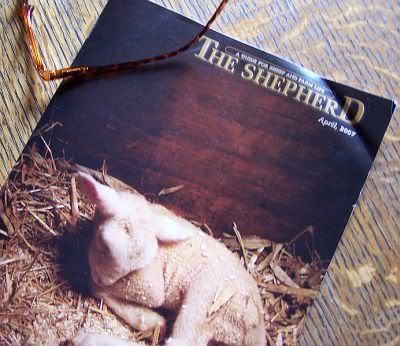 Grace recently wrote a terrific article, dealing with the topic of Organic Fiber, that appears in the current issue of "The Shepherd". She raises some interesting and valid points, concerning the choices that those who raise sheep have to consider. The title of the article is "Organic ...or Humane?" ...and it is quite thought provoking.
While not "organic wool" this Finnsheep fleece has been a real pleasure to work with. My progress is slow because I have started with the raw fleece and have done all the processing by hand. I don't mind the time involved. When I am finished, I will have a product that has been completely hand made. Think of it...touched by human hands, from the shearing, to scouring, to the carding and spinning, and the knitting. That is a lot of handling. How many garments do people own that have been constructed in this fashion? I venture to guess ~ not many....
If you would like to read more about how I prepared what I am spinning, visit the Weekend Whirls