If you happen to be a gardener or farmer, it is important that you surround yourself with other like minded individuals at this time of the year. That way, if you just happen to blurt out, "Is your Lovage up?", they will know exactly what you are talking about.
Leslie
knows about Lovage, hers is up and open already! Mine is just starting to show.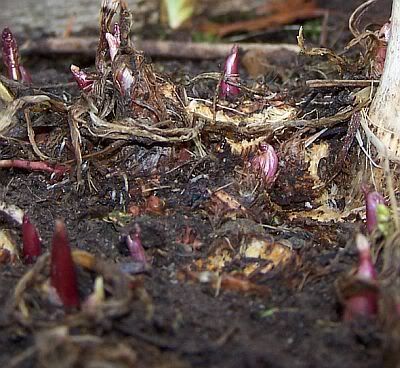 The Latin name is Levisticum officinale, common folk names include Sea Parsley, and Love Root, Italian Parsley, Love Parsley and Love Rod. But who put the love in Lovage? According to my copy of RD Magic and Medicine of Plants, "the name goes back to a Latin word meaning "Ligurian", because the herb flourished in ancient times in Liguria, a region that includes the Italian Riviera". Over time the name has been, shall we say, lost in translation...and somehow became lovache or love parsley. Lovage has a special place of its own in my garden. I look for it to return each spring, larger than it was the year before. ...and I await the celery like aroma that the leaves give off when I brush past it.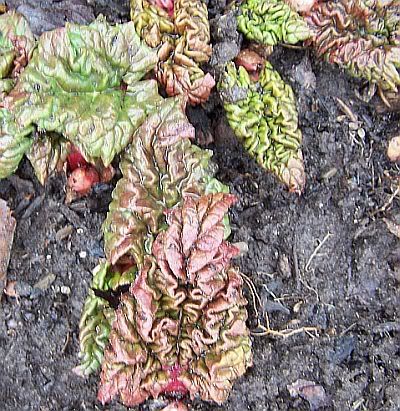 Rhubarb is among the other things that are presently up around the riverrim, the list includes but is not limited to:
Angelica
Bloodroot
Black Cohosh
comfry
chive
Dicentra
Hellebore
Violets
Lungwort
Lady's mantle
Mayapple
Sweet Cicely
Santolina
Rhubarb
Marsh Marigold
Monarda