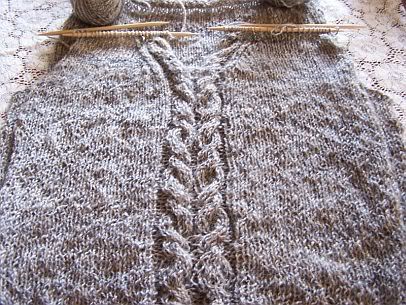 The internet is a wonderful way to learn. Ten years ago, if I needed to learn how to do an alteration on a knitting pattern, I would have found myself driving to a LYS (not that it would have been a bad thing)...but the internet is a real time saver.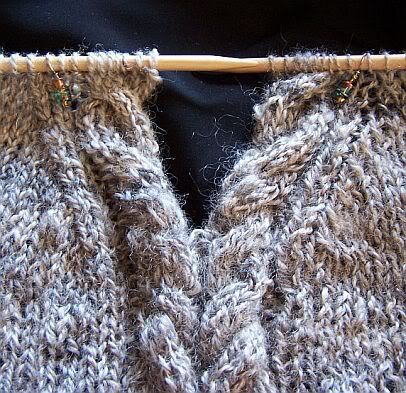 A few weeks back when I started the Boogie Vest pattern, I became aware of the fact that I wanted a different neckline. While google-ing the vest, I came upon a blog that goes by the name of KnittingJones. I really liked the way KnittingJones finished her vest, so I simply emailed her with a few questions on how she altered the pattern for the neckline. She graciously replied with instructions...(twice!...because I didn't quite "get it" the first time.) I was able to finish my Boogie vest (complete with alterations) with the help of another blogger. Thanks Susan!
Blogging has enriched my world! It started for me as a way to record projects and plantings, notations etc. an avenue to store my memory and the bits of knowledge one accumulates. I didn't have a single link on my sidebar when I started. But the list has grown. Other bloggers have enriched my world! I email bloggers, and they email me... with questions, comments etc...as simply as if we were chatting over a fence in the backyard...my daily blogrolls read like a book full of the most interesting people, doing the most interesting thing...when I stop to think about it..it really is a remarkably fun thing.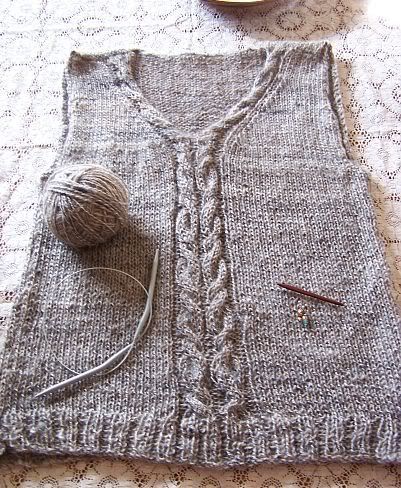 Finished Boogie vest project notes:


Started beginning of March and finished early April.


Yarn: Handspun Border Leicester Fleece P29 from Betty Levin, purchased MS&W 'O5


Needles: size 10 (one circular and 2 dpnts) cable needle


*would most likely not use the backstitch for the side seams in the future...the mattress stitch would have been a better choice.