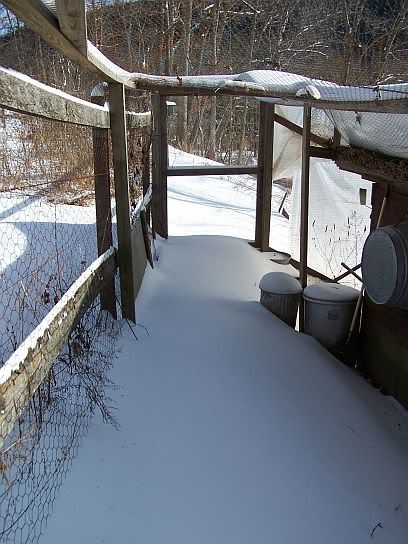 Before the snowfall, we had a security breech on the chicken run. The fence was broken into on the garden side. It was difficult to tell how the predator entered and exited. I was afraid of what I might find when I opened the door to the hen house. But all of the chickens were accounted for. I could only assume, therefore, that whatever predator had broken into the chicken run, was to large to enter the small door to the hen house.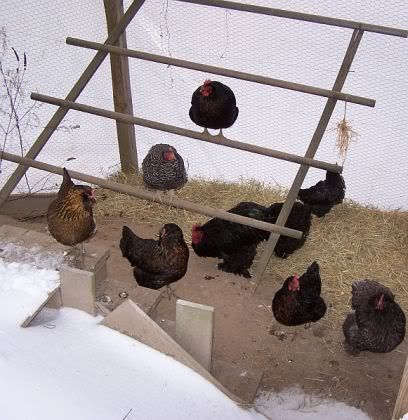 After the snow, it took us a few days to shovel our way to the hen house. I had set things up nicely, so I was not worried about anything. They had at least a weeks worth of food and water, and I even gave them a pumpkin and some winter squash and millet sprays to keep them busy. The plastic tarp that we hung in December, seems to be making a nice green house effect. The "how low did it go" thermometer shows that the high has been in the 50's, with the lows around 2 degrees. The temp's inside the hen house are around 35 to 40. The tarp also helped to protect an area from the snow, so the hens can come out and wander around a portion of the yard without having to stand in the snow.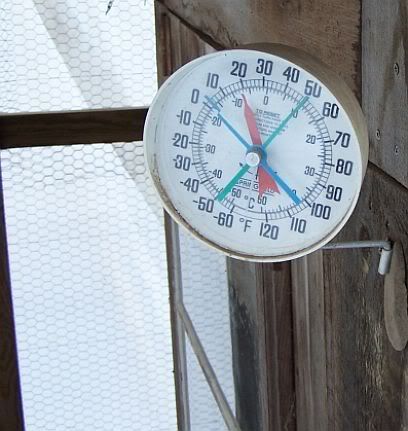 After I had shoveled the path to the hen house so I could collect the eggs, I noticed these tracks in the snow ...coming from the ledges, and leading down to the chicken run. The path is traveled several times over the course of as many days. I followed it as far as I could, looking for a track with a clean outline to help me determine what animal had made them. I was not successful.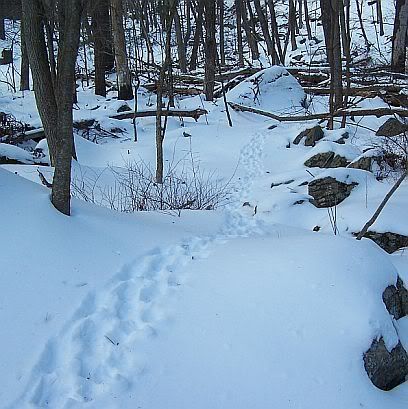 They were about as big around as a tennis ball, but that could be due to snow melt making them larger. The tracks also went under the fallen trees, where the head space was only about a foot or so high. I am uncomfortable leaving the run door open now. It could be a fox or a bobcat, but I don't think it is a coyote. Whatever it is, it is hungry and looking for free meal....