A front moved in and the mercury dropped...well, I don't know...maybe it isn't mercury, but whatever the red substance inside my thermometer is, it has now settled to the bottom of the tube. A check to the "how low did it go" dial indicated that we dipped down to 10 degrees. That is more normal for January around these parts. But I worry for my chickens and rabbits when it happens so quickly after it has been so mild. I worry that they have not acclimated. Even kitty shows a dislike for the drastic change, electing to spend more time in front of the woodstove.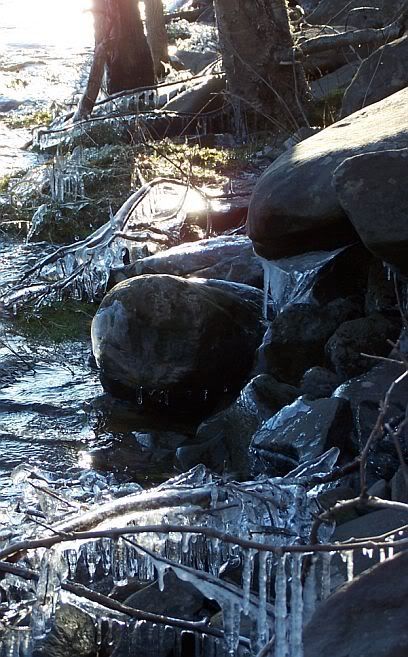 I did walk yesterday. A short one, but I did. On cold days like this, one has to be ever mindful of the fact that however far one ventures in said direction, one will always have to consider the same distance for the return trip! I decided it would be warmer down by the water, so I climbed around on rocks and saw the prettiest ice globes taking shape from the branches that overhang the water. I took a short video of them. I don't often take movies, but the movement of the globes over the water, and the sound they made when they clinked together was unusual.
The entire riverrim was encapsulated in ice. If there was not such a stiff wind blowing, I would have stayed longer to admire and explore the patterns.
Oh, I almost forgot, I finished the Inga Hat...and happy about it! Want to see it?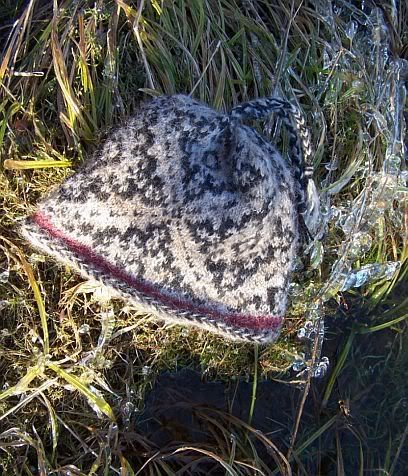 The herringbone purl braid rim makes an interesting edge..wouldn't you agree? It wanted to flip up, but after blocking it behaved. When it came time to do the decreases, my knitting really slowed down.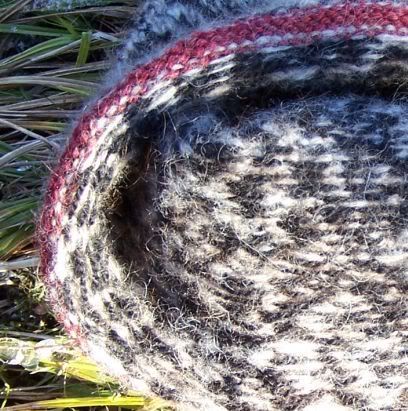 The inside of this hat has the ends woven in- in true stranded fashion- a new technique for me, but rather fun to do. The yarn is my handspun (Great Wheel) Icelandic and some black ebay wool courtesy of Grace (thanks Grace!) It makes for a cushy thick hat, nice and warm on a day like today.
The top of this hat called for 54 stitches to be pulled together. Wow. I decided to add a long tassel of fingerlooping. I'm not sure that I like the way this hat looks on me..but it is warm and I think I will put it back on my head now.
BTW, I found a really fun tool for figuring out how far I am walking. I haven't use the topo map yet...so I don't know if that works, but I will try it next time I am walking "off road".