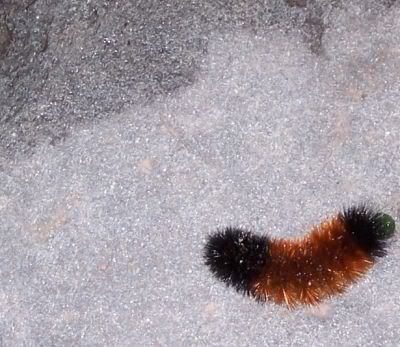 Found this forecaster today, and close examination of the specimen seems to be saying that we should have a fairly mild winter, with a cold spring. This forecast would only be for my local area. Your mileage may vary....as do the markings of your woolly bear caterpillars.
Actually, it looks a lot like the woolly bear I saw last year. However, there have been years when I have observed woolly bears looking totally black, and the winter was severe. Maybe there is some truth to the folklore....or perhaps like some experiments indicate, the color and size of the woolly bear's stripes are due to where it lives and what it eats.
At any rate, I have more fun watching the woolly bear than the weather channel...and none of it will matter, come next spring when Isa Isabella will emerge.