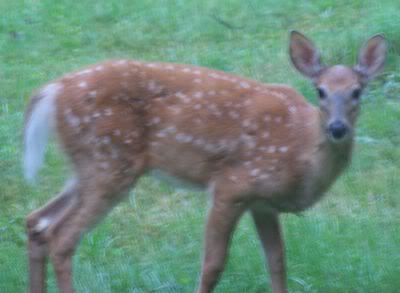 This fawn was born earlier this year, and has grown quite a bit...in fact, we have a nickname for her and her mother. We call the mother "little bit"...and the fawn is "little bit more". She joined me for coffee this morning...rather briefly.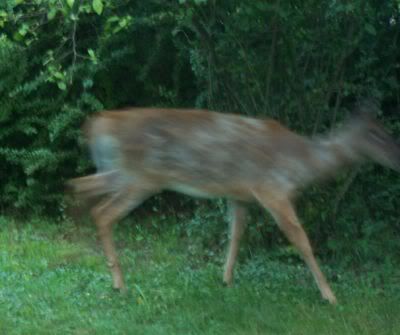 Last night around 11pm we had a visit from the bear. I hear something outside, near the hemlock trees, and by the time I got downstairs and onto the deck with the flashlight, the bear had broken into the rabbit chow. I grabbed the air horn, yelled at the bear to get out, and blew the horn several times. He lumbered off. We elected not to go out and clean up after him until daylight when we would have the advantage. Bummer...now I have to lock everything in the basement, and get out the nail boards to put in front of the rabbit hutches. One more thing to make chores a bit more time consuming. I will have to do this now until a hard freeze. I also have to soak a rag with ammonia to put inside the trash cans. Hopefully this will discourage the bear from coming back.
On the way into town this morning, we passed a mother bear with three cubs. I was glad that they were not in my backyard! They were with 100 feet from the house.