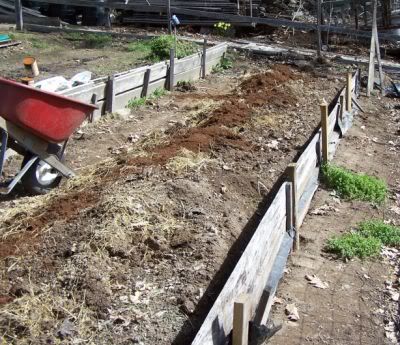 Getting ready to plant is a long process. It is a process that I always want to hurry through. But I tend a garden with my better half, and must be ever mindful of the fact that he has other plans.
He is the soil builder. It is at this time of year that he works his magic. He does a good job of it. When we started a garden, this soil was practically a rock ridden clay field. Now it is a fluffy bed of rich organic SOIL.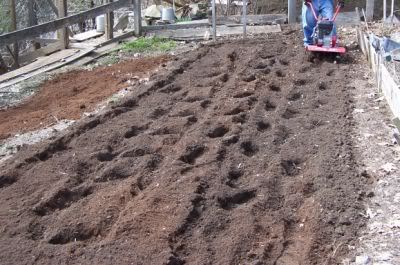 Patience, he tells me...as he methodically goes about repairing the terraced beds. We garden on a hillside - a southerly slope, and he decided long ago, the best thing would be to terrace the raised beds. Occasionally, these retaining walls need repair..and springtime is when he does this...
Meanwhile, I am chomping at the bit, nagging him to hurry up, "I need to get the broccoli out of the green house and into the ground!"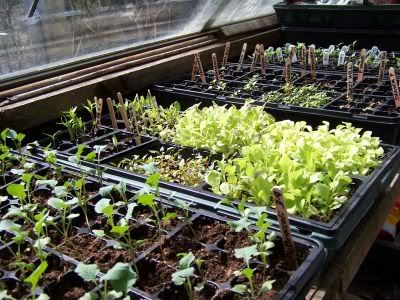 Patience, he tells me...as he meanders over to the compost pile and shovels out the 2 year old bins of black gold. There was a time when he would screen the compost, sifting out only the choice nuggets...but I don't have time for him to do this today. "The lettuce is calling for release from it's crowded flat!"
I know his methods are correct..the time to prepare and feed the soil is now, and it will be worth it. The pay off will come and I will be glad for it..but right now, I just want to dig in and get going.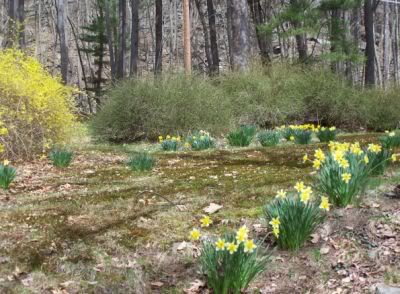 Sometimes, I have to walk away...when I get too impatient.. so I wandered over to where the daffs are blooming. And seeing them makes me remember to stop and just enjoy the process of growing a garden. It is a thought that appeals to the spinner in me. I enjoy the steps involved with spinning fiber. There are days to prepare fiber...and days to spin. I make better yarn when I slow down and enjoy the steps involved along the way...so it reminds me to enjoy the steps incorporated to produce a fruitful garden....now, get out of the way and let me plant the broccoli!