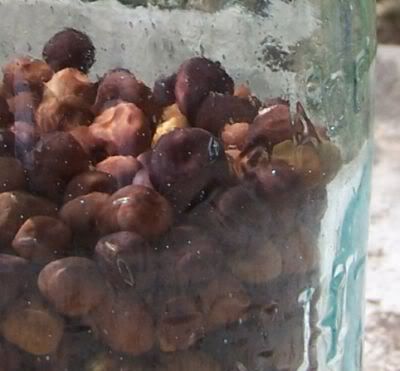 There were once five peas in one shell, they were green, the shell was green, and so they believed that the whole world must be green also, which was a very natural conclusion....
thus begins the story of the Pea Blossom by Hans Christian Anderson....
When my son was in primary school, he enjoyed hearing this story before bedtime....and I enjoyed reading it to him. Now, when I plant my peas, I remember the story...and how I would give him a handful of peas to "shoot out into the world" each spring.
Planting peas is a special moment for me, and I get very sentimental about this chore. I have a special fondness for peas...not for eating them, as much as for planting them.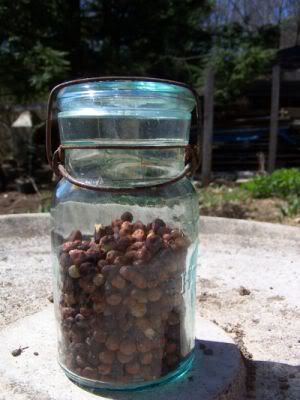 Peas were the first thing I ever grew. My father prepared a "postage stamp" sized garden for me when I was about 9 or 10 years old. He gave me a pack of pea seed, and told me to plant them and take care of them. He reminded me that a good time of year to plant peas was on my Grandfathers birthday...that way I would always remember when to plant them. He told me it was MY garden, and that if the peas were to grow, I would have to take care of them. I have been fond of growing peas ever since. I worked hard on that garden..weeding and watering. I would look out my bedroom window at them at night, and early in the morning..just checking....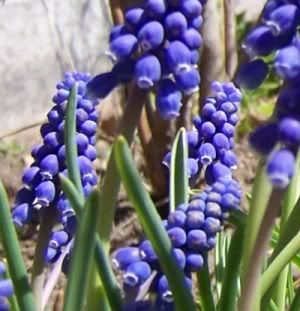 these grape hyacinth look like blue peas to me....
So, I planted my peas today....
I like a Dutch variety called Norli. I brought a small packet years ago, from Shepherds Seeds (now white flower farm). I save my pea seeds from year to year because I love the purple blossom on the Norli...and the flavor is good too.
It is a snow pea, good in stir fry.
Yesterday afternoon on the way to my spinning group, I took a pocket full of my pea seeds...and shot some out into the world...maybe one will fall and grow where it can encourage someone to feel just a little bit better...or maybe one will wind up in the crop of a pigeon, it's not for me to know.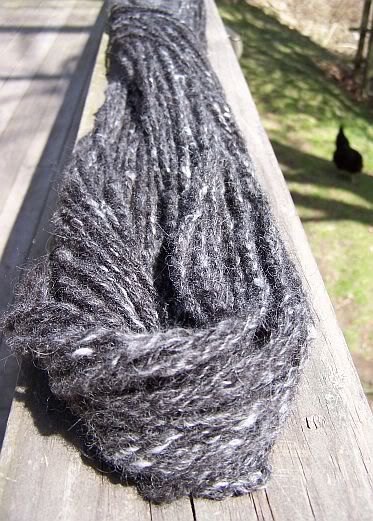 And just to update a project note...I finished spinning what I had carded up of the Angora/Finn blend. I wound up using my noste to wind a center pull ball and ply up the lone remaining bobbin that was leftover, and it worked quite well. I had seen this method discussed on a spin group a few weeks ago, and found it to be a good tip. I still have more of this to card before I can spin it, so in the meantime, I started working on the roving I purchased from Grace Hatton...you can see it here.