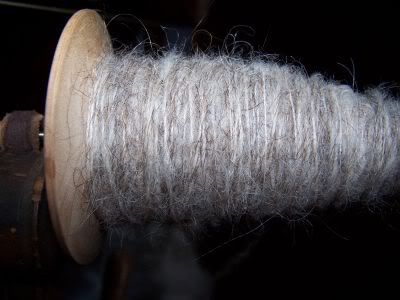 I've been spinning on the Great Wheel a bit. I had been spinning the Icelandic Wool from Tongue River Farm...and all the while I kept thinking about how beautifully prepared the batts were. Finally, I decided that it was so nice that it wanted to be spun on the Great Wheel, and I gave it a go.
The first thing I have to do before I can start spinning, is to lather up a piece of corn husk with hand lotion and wrap it around the spindle. I do this because it is easier to remove the finished cop, and it gives it more stability since it does not have core like a bobbin would. Without the corn husk, the cop tends to collapse on itself. If you look really closely at the center of the cop, you might be able to see the piece of corn husk showing.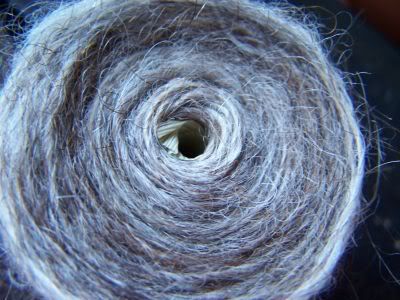 I spun a few cops and plied them together. My Great Wheel spinning still needs lots of practice..so it is very inconsistent. But here is a penny photo I recorded to keep track of my progress.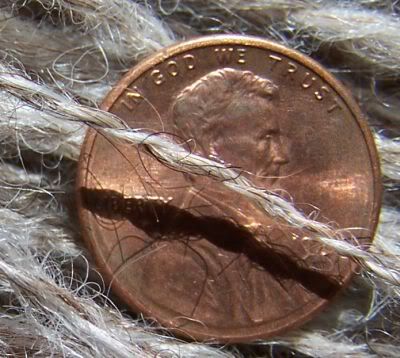 I also finished a few knitting projects. Here is my swatch from the horse shoe FLAK cables. Knit from the BL I had spun, I practiced a strip of the cables and then picked up stitches all around to make a hat. The cables are a little shaky...I need more practice in this department as well!
One more ear flap hat, this time I tried my hand with a simple fair isle pattern. I was trying to hold the colors in each hand as I knit along...that is going to take more practice too. I used up the leftover mohair and camel.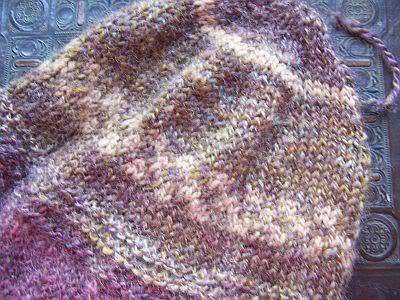 In garden news, we had our big bonfire and got rid of all the old cornstalk and tomato vines, plus any other thick vegetation that would not compost easily. It smoked more than I had hoped, and the air smelled like a mixture of herbs from time to time.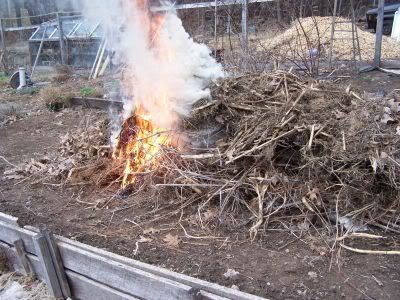 This morning I woke up and saw that we had a dusting of snow. I went back to the garden to make sure that the fire was completely out and noticed the snow on the lungwort.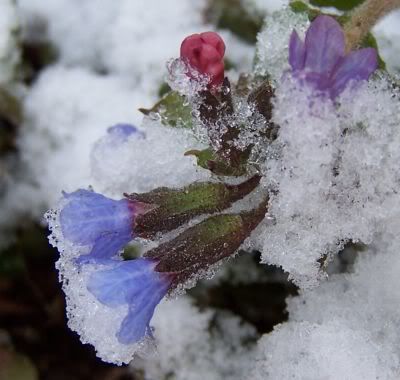 Winter is taking its time leaving us. Tonight the forecast shows temps dipping down to the twenties.
I will have to bring in the flats from the greenhouse.