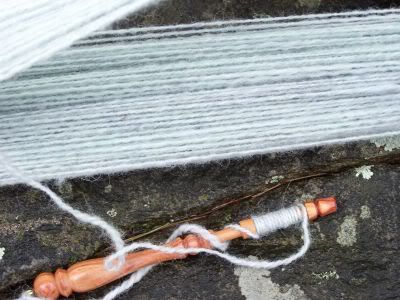 I've been spinning up this Finn/Alpaca blend that I picked up from
Grace
at the library a few weeks ago. She had it processed at Wooly Knob, and I have to say that spinning it has been a joy.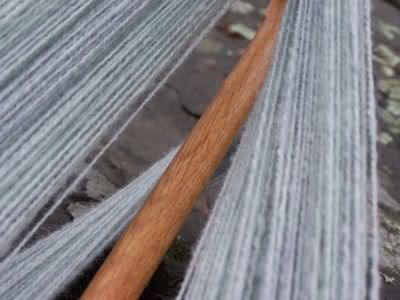 The hand is so soft...and the color has several different subtleties of green and blue and gray going on...I thought the color was similar to lichens, but it has more blue in it...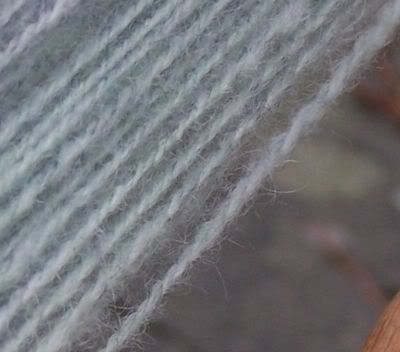 I am spinning a woolen yarn using a long draw, and so, the spinning moves along quickly. I have finished 186 yards at 18wpi so far.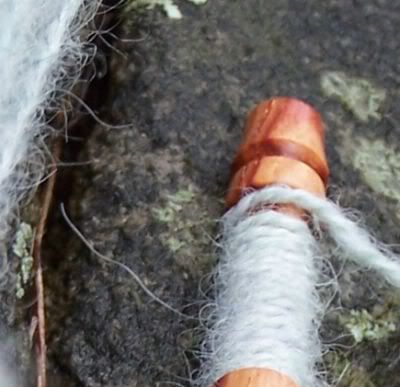 Caution..the following is documentation about the death of one of my hens, and mostly for my own records..don't read it if you are easily upset.
I am now down to 14 hens. We lost one this past week. She was showing signs of problems about a week ago...abdomen was swollen, tail feathers tucked... she was not laying, and looked to have some bits of scrambled egg looking stuff (ech!) around the vent. I had taken her away from the flock and washed her off (no broken shells or egg visible around the vent..no prolapse, but vent opening looked very small. I gave her a warm water soak in the mud tub before putting her into a dog kennel next to the stove for a few days. She ate light, and within a day or so she returned to the flock and was holding her tail up..eating and ranging normally..but still looking a bit swollen in the abdomen and vent...and hanging close to the coop. She did well for about a day, but I had noticed that she soon had the scrambled egg/mustard looking stuff around her vent again. Also her legs looked like they were further apart, and she was waddling when she walked. I made a mental note to take her in again, and I went into town to do errands. That evening when we went to lock them up for the night, she did not come home. We searched everywhere. In the morning, I looked around, but didn't find anything..no feathers or sign of her. I held out hope, as I have had hens wander off before. I found her on Friday, out in the open on the hillside. The abdomen was cleaned out from the vent, and her head was missing. There were no signs of a struggle. Nature has a way of taking the weak and culling my flock before I can. I suspect a raccoon, but never knew one to eat the head...not sure what to think about that.
Interesting to note what a help this blog has been to my record keeping. I lost a hen last year in May around the middle of the month. She had very similar symptoms with waddling and enlarged abdomen. I remembered I had to walk down the hillside after her at dusk because she could not get up the hill. When I went back to look at what I wrote, I noticed a photo of the bloodroot blooming. My bloodroot has bloomed already, and it is in the middle of April this year. Both hens died while the bloodroot was in bloom, but one in April and one in May...The thing is this...perhaps the hens are eating a plant or insect that is causing this? Why would it only be one hen though...