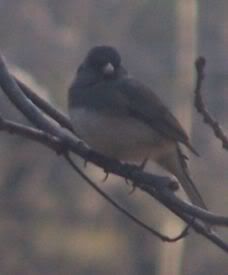 I think it is safe to assume that when most people think of a bird that they associate with springtime, they think of a robin. I sometimes think that the Junco is the bird we should be watching.
A small flock of about 10 to 12 Juncos arrive on the riverim sometime during November, and they spend their winter here. They look pretty in flight, and in the snow, and they hang around until the weather has determined that should return to their breeding grounds up north (around here that means late March or early April). I have to say that I am happy when they leave...it signals an assurance of warmer weather.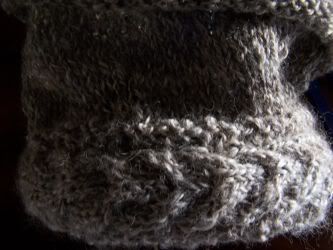 I have taken a break from working on the ELS chart pattern, and have picked up my swatch from the
FLAK
. I started a small swatch of the horseshoe cable (from the meet the cables), and decided to turn it into a hat. At this point, I am knitting in the round on circulars, so I am able to gain a little "mindless" knitting time....a nice break from the concentration required to follow the embossed leaves sock pattern.