...recovering...replenishing...resting...so I don't RELAPSE!
We are starting to get some really nice warmer weather during the day.
Some of the first flowers are starting to appear...like this lungwort,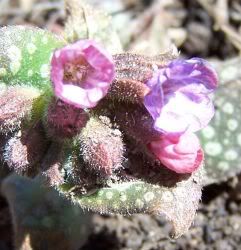 and this speedwell.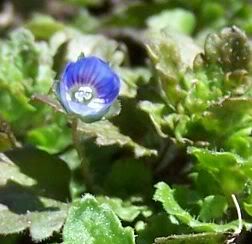 Trouble is, I cannot get out to enjoy it just yet. I have been trying to take it easy until this cold/flu/nasty germ...leaves my system entirely.
I have turned the heal on the "embossed leaves socks" and was pleased to find out that it was not as hard as I had expected! I do need to pay attention to what row of the pattern repeat, as well as what row of the decrease AND what stitch -within the row I am working on. All of this has been easily remedied with stitch markers and row counters. And to think there was a time I used to rely on paper and pencils!
Did you notice the size of the buds on the quince bush? They are starting to "pink up".