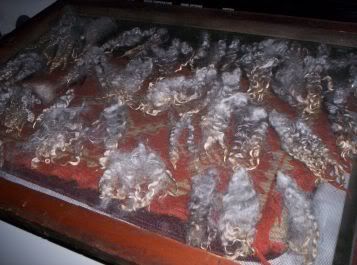 I have been finishing up what is left of the Border Leicester Fleece that I brought from Betty Levin at the MSW this past spring. Every morning, I wash up another batch of locks for that evenings spinning. I sort the locks as carefully as possible, arranging them neatly, and then floating them on the hot soapy water. When the water cools, I gently lift them out and place them on terry. They are rolled, and then placed on the screen to dry. This fleece has wonderful luster.
When I am ready to spin, I take a handful of the locks...
I use a dog slicker to flick the ends out. I start with the butt end, grasping the middle, and then turn the locks over and do the same to the tips. These locks are the prettiest shade of pewter at the butt, and they turn golden blonde at the tips.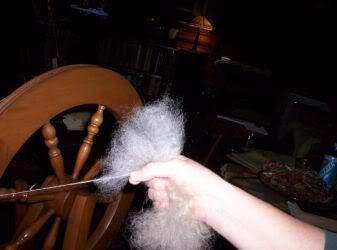 While spinning, I do a long draw, starting from the butt end (always) and the bottom of the fanned lock, and working my way up to the top right corner of the fan. This process is very systematic...but has lately become part of my daily (and nightly) routine. I am trying to stick with it until I have finished the fleece.