The blue sky this morning is beautiful, and the rains of yesterday have washed away all of our snow!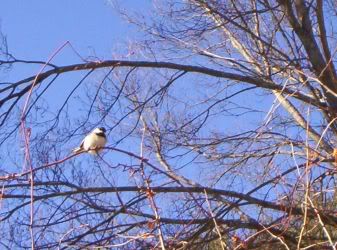 This little chickadee follows me around while I tend to chores. One of my daily chores involves a trip to the coal bin, where I fill two buckets of coal for the stove. My weather man informs me that we are 1/3 of the way through the winter now. I am pleased with the amount of coal left in our bin at this point. Each day when I shovel the coal into the buckets, my mind shifts to thoughts of the coal miners in WV, and the recent accident. I still keep the families of the coalminers in my prayers, and think of how hard people have to work sometimes.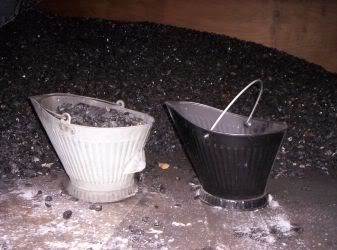 Back in the house, I kick off my old boots. I notice the new Yak Tracks (thanks mom!) on my beat up old boots.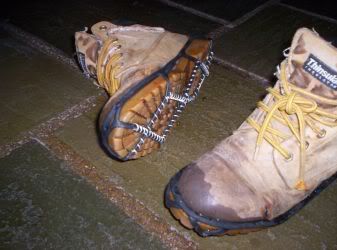 I have been needing new boots for some time. I don't know what it says about me that I have not gone out to buy any...
a. it will take time
b. it will take money
c. the new ones will feel "different"
d. all of the above
I am comfortable in my old beat up boots, but it will soon be time to chuck them. I take off the new Yak Tracks, as all the ice and snow is gone, and I don't want to wear the Yak Tracks out. My old pair broke, and I was lost without them!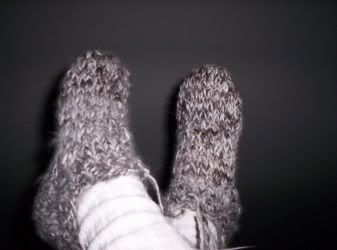 Here are the finished felted footies before felting. They are big and cushy on my feet. The pattern calls for the fulling process to be done in the washing machine. I always get nervous at that prospect, and may do this pair by hand so that I can keep a careful watch on the size. The Finnsheep wool has a tendency to felt quickly, and the same may not be true of the angora.