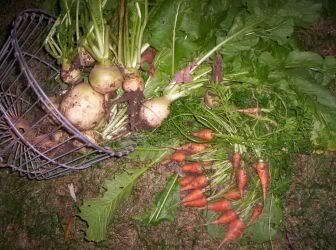 I picked the last of the gardens offerings for Thanksgiving. I picked them yesterday... just in time. This morning when I went to check on chickens and rabbits, there was frost in the ground.
Snow expected later today.
I will make these garden veggies for the Thanksgiving table. I planted them in mid July....just after I lifted the last of the snow peas. The carrots are a Danvers variety, and the turnips are
Gold Ball
.
These are the last offerings from the garden for this year.
It has been a very good season.
God has blessed us with a very good harvest.
So Happy Thanksgiving!
Thank you for the world so sweet-
Thank you for the food we eat-
Thank you for the birds that sing-
Thank you Lord for everything.